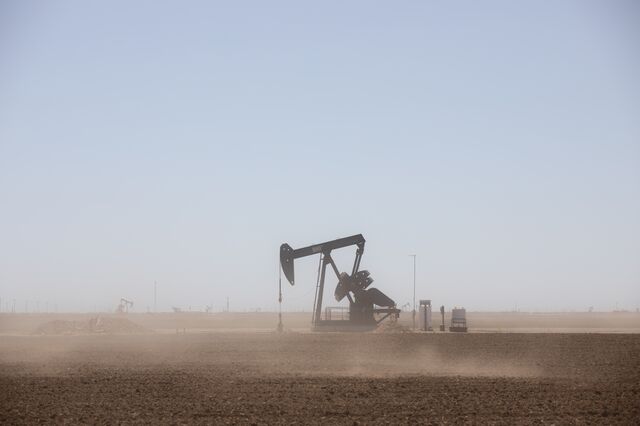 Why the Global Oil Market Hinges on Five U.S. Counties
The Permian Basin, a sprawling shale patch that lies beneath Texas and New Mexico, is uniquely positioned to become the world's most important growth engine for oil production.
Where can the world quickly turn to for more oil? The answer, it turns out, isn't the traditional powerhouse of OPEC or the promising new offshore fields of Brazil. Instead, the weight of the oil world is falling squarely on the shoulders of a few counties tucked into lonely corners of the U.S. Southwest.
The Permian Basin a sprawling shale patch that lies beneath Texas and New Mexico, is uniquely positioned to become the world's most important growth engine for oil production. The bulk of that expansion will come from just five counties that make up about 15% of its total area.
Russia's invasion of Ukraine has revealed to the broader world what those who follow energy markets have been flagging for some time: Oil markets are tight—really tight. Supplies are so fragile that the threat of disruption to Russian exports immediately sent prices racing past $130 a barrel in a dizzying surge. The market has since eased a bit in volatile trading, but prices are still high enough to continue to weigh on global economies and raise broader concerns over energy security.
To cool things down, all eyes are on the Permian. That makes the debate raging among drillers in the basin—whether to unleash the drill rigs or not—extremely pressing to a world dealing with the inflationary blow of oil's price surge. Output in the Permian is above pre-pandemic levels, but suppliers are cautious about how much more to add. They've got to answer to investors who have demanded capital discipline. And while President Joe Biden is currently asking U.S. oil companies to step up production, his historic hostility toward fossil fuels means the industry sees long-term risk.
Stacked up against other producers, the Permian stands out. Unlike OPEC countries such as Kuwait and Iraq, drillers in the Permian aren't beholden to alliances that restrict production. The region also doesn't face the same political headwinds of places in Europe, which are quickly moving away from fossil fuels, and it doesn't face the daunting financial obstacles of Venezuela. Costly infrastructure is mostly already in place, drillers have high rates of productivity and the basin features relatively low breakeven costs, which measure the minimum oil price needed for profitability.
But the biggest advantage of the Permian is its massive, untapped reserves that are buried in the layers of shale rock. The potential is so big that it outstrips even the Middle East's famed fields.
"We'll stop using oil long before we run out of Permian inventory," said Artem Abramov, head of shale research at Rystad Energy.
The consultancy estimates the U.S. has more than 76 billion barrels of untapped reserves in oil fields that aren't yet producing, most of which can be found in the Permian.
The usual saying in commodities trading is that "high prices are the cure for high prices," meaning that when markets go up, producers come bounding out to increase supplies, eventually sending prices back down. But the OPEC+ alliance— 23 countries which together account for nearly 45% of the world's oil production—has been missing in action. Not only did the cartel fail to act as a stabilizing force during the furious price rally, many nations are falling short of reaching even their modest goals for increasing output. The group's spare capacity is limited, and the fact is that very few members can quickly turn on the taps.
All that makes U.S. oil output more critical than ever.
Growth potential for American production used to be spread out across the country, from shale patches that sprawled from North Dakota down to the Mexican border and stretched east to Pennsylvania. Now, it's become concentrated in a tiny section of the Permian. Five counties in the region—two in New Mexico and three in West Texas—account for nearly 70% of the basin's growth.
Those counties have been busy. Output from the Permian topped 5 million barrels a day for the first time ever last month, and the basin accounts for almost half of total U.S. supply. Permian production is already expected to rise about 12% by the end of next year in a "base-case scenario," according to BloombergNEF estimates. If prices stay near $110 a barrel, production could soar as much as 25% to 6.4 million, BNEF analyst Tai Liu said in a report.
The ascendancy of the U.S. to its role as a globally important swing producer started almost two decades ago with the shale revolution, a breakthrough in drilling technology that unleashed vast new supplies. That ability to add new production was once shared across several oil basins, allowing the country to become the world's biggest oil producer.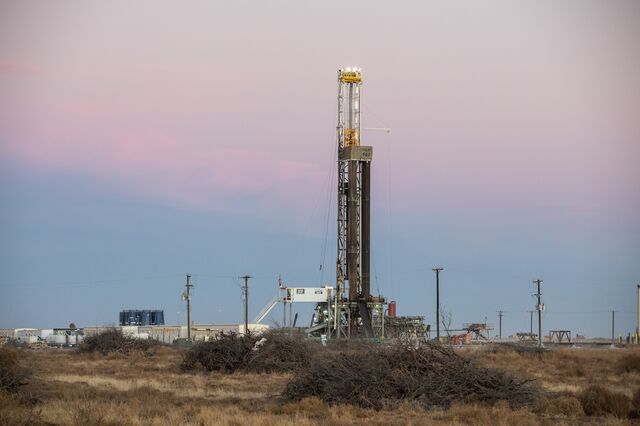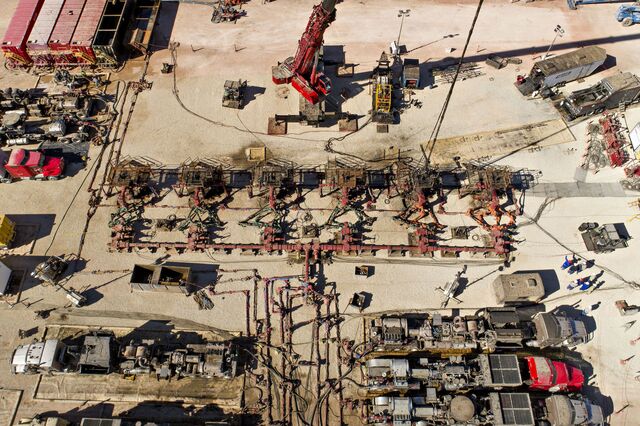 America's other top shale plays, including the Bakken in North Dakota, the Eagle Ford in South Texas and the Woodford in Oklahoma, are now more mature and are seeing production stall. Since 2015, growth in the Permian has outstripped the rival basins. Then the pandemic took things to another level.
When oil prices crashed in early 2020, producers pulled back precipitously, withdrawing rigs and cutting jobs. Things have stayed depressed in the Bakken, Eagle Ford and Woodford. Those regions are expected to either flat line or show very little uptick this year, according to estimates from industry-data providers Rystad and Lium.
These days, it's all about the Permian.
"The U.S. oil system has effectively gone from three growth engines down to one: the Permian," said Raoul LeBlanc, vice president for upstream, S&P Global Commodity Insights.
What really makes the basin stand out from other regions is its vast layers of oil-soaked rock, stacked like pancakes on top of one another. That makes for a larger number of lower-cost locations ripe for drilling. There are roughly 12 productive zones in the Permian compared with maybe three or four in other shale plays, Rick Muncrief, chief executive officer of shale giant Devon Energy, said in a phone interview.
If oil were to suddenly collapse, there would still be plenty of top-tier drilling locations in the Permian that would be economically viable at $50 a barrel, according to Rystad Energy. The region also offers better infrastructure, including pipelines to carry the oil and natural gas away, and more drilling and fracking crews to get the work done.
Those factors are luring more investment into the Permian, even at a time when the global energy transition means that analysts are warning about the eventual prospect of peak oil demand.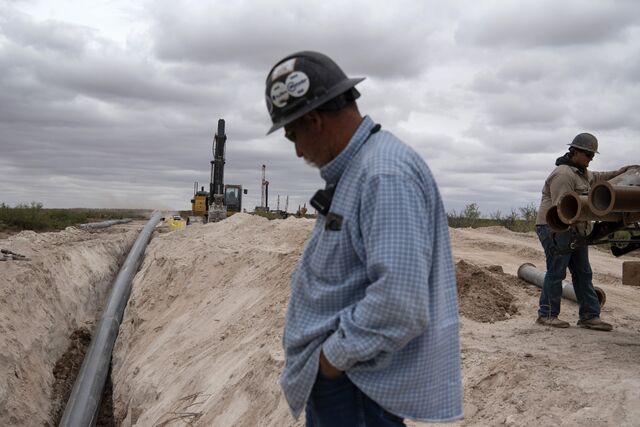 Truck traffic is steadily picking up throughout New Mexico's Lea and Eddy counties, home to about a third of the Permian's projected production growth this year. Just across the state line in Texas, the counties of Martin, Midland and Loving should chip in another third of the region's expansion, according to S&P Global.
Even oil wildcatter Harold Hamm is finally bringing new spending to the region. The billionaire who made his fortune drilling in North Dakota's Bakken surprised investors in November when his Continental Resources Inc. announced a deal to acquire assets in the Permian from Pioneer Natural Resources Co. for $3.25 billion.
"We've looked, and we've looked," Continental CEO Bill Berry said. Until now, the company "never thought the time was right or the economics were right to enter the basin," he said.
Other oil giants are also more focused on the region than ever before. Exxon Mobil Corp. is planning a 25% boost in Permian production this year, and rival Chevron Corp. announced a 10% hike.
Meanwhile, EOG Resources Inc. is drilling nearly 40% fewer wells in south Texas' Eagle Ford this year, while increasing drilling in the Permian's Delaware basin by about a third.
"It's really just a function of the maturity of the Eagle Ford," EOG's Chief Operating Officer Billy Helms said Feb. 25 on a conference call.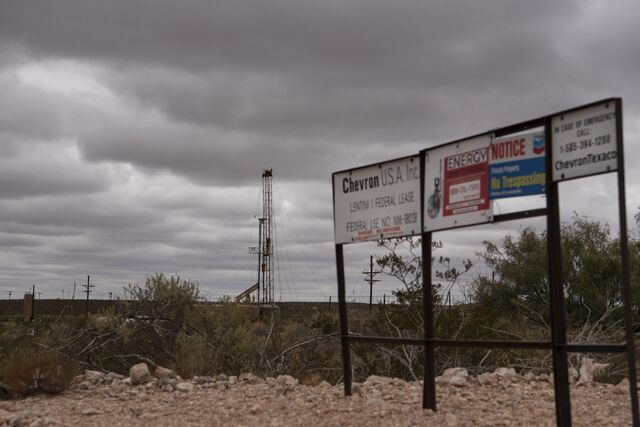 Even though it's relatively easy to pump more barrels in the Permian, limited natural gas pipeline capacity means that there could be challenges moving the fuel to where it's needed by next year if growth continues at this pace. That's combining with investor pressures for austerity to keep companies like Diamondback Energy Inc. hesitant for now.

"We're certainly doing our part not growing," Diamondback CEO Travis Stice said on a recent earnings call. "I wish other people would grow less in the Permian too."

The industry also argues that it needs long-term government support before it can sustainably raise production much more. EOG Resources and Devon Energy are among the shale giants sitting on thousands of unused federal drilling permits, many of which could be used to produce more oil from the Permian.

Companies may believe it prudent to hold onto drilling permits now in case Biden — who campaigned on pledges to combat climate change — clamps down later.If drillers decide to go bigger on ramping up production, the process doesn't happen overnight. Personnel shortages and supply-chain snarls are currently holding back expansion, Occidental Petroleum Corp. Vicki Hollub said in a recent Bloomberg Television interview.

And while there are few global players that can challenge the Permian's resources, one does still loom large: Saudi Arabia. Unlike some other OPEC countries, the traditional oil kingpin still has plenty of spare capacity and could start flooding the market with supplies if it wanted. But so far, the nation has rebuffed pressure from global political leaders to open the taps faster, a move that would strain its own ties with Russian President Vladimir Putin.

For now, the Permian is bursting with activity. With almost 20% of the world's supply of working drilling rigs in the basin, the region is busier than any other country, according to Baker Hughes Co. data.

Devon CEO Muncrief can attest to the richness of the reserves. While his company is producing from four large oil basins across the U.S., none of the others are as productive or as vast as the base it's built for itself in the Permian over the past seven years, he said.

"In all honesty, it's exceeded our expectations," Muncrief said.

') } /*-->*/