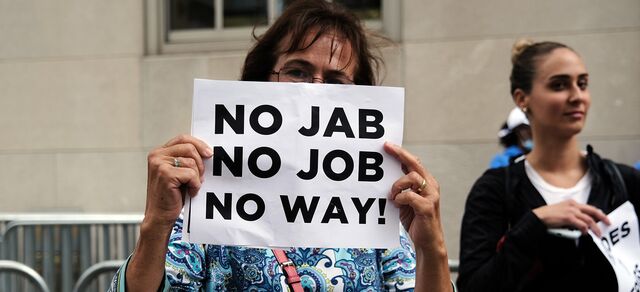 These Are the U.S. Companies Requiring Covid Vaccines for Employees
To mandate, or not to mandate?
That is the question facing corporations right now as they weigh the pros and cons of requiring a Covid-19 vaccine for employees. The answers, so far, are all over the place.
A Bloomberg compilation of policies of more than 100 big companies found that about half have implemented a vaccine mandate for at least some of their U.S. staff, but the requirements vary widely. For many, the measure applies to anyone entering a U.S. office—but that can leave wide swaths of the workforce unaffected. Walmart Inc., for instance, hasn't required its more than 1 million store and warehouse workers to get jabbed. For roughnecks on oil rigs, it might depend where they're drilling.
Don't look for similarities within industries or geographies, either. The state of Texas doesn't cotton to mandates of any kind, but don't tell that to Dallas-based AT&T Inc., which will require management to be vaccinated starting Oct. 11. United Airlines Holdings Inc. also made inoculations mandatory, and is one of a handful of firms that will fire those who don't comply, while rival Delta Air Lines Inc. is instead levying a $200 monthly surcharge on the unvaccinated. Even Wall Street banks, generally the most keen to get workers back in seats, aren't in line on the subject: As of Sept. 9, JPMorgan Chase & Co. hasn't mandated the vaccine, while many of its peers have.
What's clear is that the massive post-Labor Day migration back to American offices isn't happening as planned. Meanwhile, U.S. regulatory approval of Pfizer Inc.'s shot last month has prompted a growing number of companies to consider mandates as the highly contagious delta variant spreads. More than half of employers might have a requirement by the end of the year, according to consultant Willis Towers Watson, more than double the 21% that currently do.
Still, roughly 14% of American adults say they don't intend to get the shot. To persuade them, companies are offering everything from gift cards (such as supermarket chain Publix) to a lottery with payouts of up to $500,000 (courtesy of Amazon.com Inc.). For retailers and others with lots of frontline workers, a few hours' pay is a popular carrot. Those incentives, though, won't convince many vaccine resisters, many of whom will now work from home, if possible—or in some cases, look for a new job.
') } /*-->*/