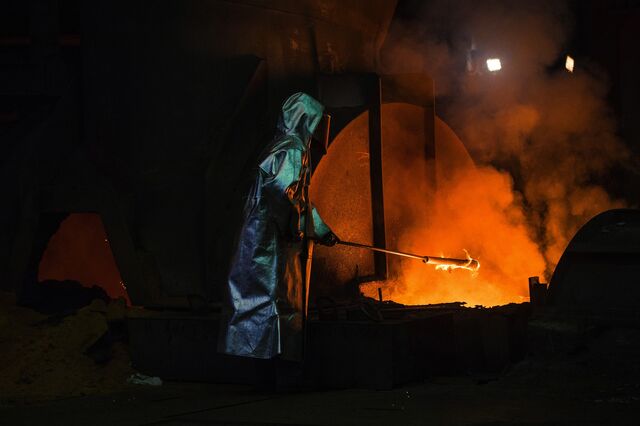 The Green Revolution Is Being Built on a Very Dirty Industry
The battle against climate change is relying on the same polluting building block that drove the second Industrial Revolution a century and a half ago.
Steel, which transformed everything from guns and bridges to cities and shipping at the end of the 19th century, is also critical to the wind turbines, solar panels and electricity pylons needed to displace fossil fuels. But steel is itself reliant on burning billions of tons of coal, with the industry emitting more carbon dioxide than cars, buses and motorbikes combined.
Weaning a low-margin industry off cheap coal and onto more costly green steel technologies will require massive government support and concerted action by steelmakers from Tangshan to Indiana.
In the past year, five of the six biggest steelmakers lined up behind the Paris Agreement, committing to reaching net zero emissions by 2050. U.S. President Joe Biden and Chinese President Xi Jinping are pushing hard to reduce greenhouse-gas emissions, while the European Union plans to slap an import levy on building materials produced in countries with lower environmental standards, making local, low-emission steel more competitive.
"In the last year or so, the steel industry has collectively 'got it,'" said Doug Parr, Greenpeace U.K.'s chief scientist. "Particularly since Biden got elected, there's a recognition that climate policies are going to reach into all sectors. If one or two companies start to move to cut emissions, then others in the sector look very exposed."
The Group of Seven nations, whose leaders are meeting in the U.K. this weekend, plan to take action to decarbonize steel and other industrial sectors, according to an early draft communique. The political impetus couldn't come at a more important time, as renewable-energy technologies need even more steel per unit of energy they produce than the fossil fuels do.
But there's still a long road ahead. We've crunched the numbers on getting steel to net zero in a series of charts showing the vast scale of the challenge.
Modelling by BloombergNEF shows that to build enough wind turbines to reach net zero by 2050, 1.7 billion tons of steel will be needed. That's enough to make 22,224 replicas of San Francisco's iconic Golden Gate Bridge. Solar panels and pylons to expand electricity grids are similarly steel heavy.
China will be key to cleaning up the industry, as it produces more than half the world's steel.
Baowu Steel Group, China's state-owned national champion and the world's No. 1 producer, is among the steelmakers committed to carbon neutrality by 2050, a decade before the target set by President Xi for the country as whole. Baowu has been at the forefront of technological change in China's industry for decades and could be pivotal in driving the nation's green ambitions.
Beijing is aiming for steel to hit peak carbon emissions before 2025, and is pushing for a 30% cut by 2030. It's a massive task because the industry is dominated by coal-fired blast furnaces that will be difficult to transform, and many of which have years of useful life remaining.
"The industry is looking with a lot of interest at what is happening in China, just because of the sheer size of the Chinese industry," said Benedikt Zeumer, a consultant at McKinsey & Co. "Because the Chinese industry is centrally driven, direction can be translated into complete action."
Some European and North American steelmakers, such as Nucor Corp., which use recycled steel in electric-arc furnaces, face a smaller challenge: finding greener sources of power supply. But even if every available piece of scrap was recycled, more than half the world's steel in 2050 will still need to be made by melting down iron ore, according to BNEF.
That leaves companies including ArcelorMittal SA, POSCO and Nippon Steel Corp. searching for ways to replace traditional blast furnaces, where carbon in the form of coal or carbon monoxide is pumped in along with the ore, creating pure liquid iron at temperatures of more than 1,000 degrees Celsius (1,832 degrees Fahrenheit). The carbon latches onto atoms of oxygen in the ore and floats away as carbon dioxide, contributing to global warming.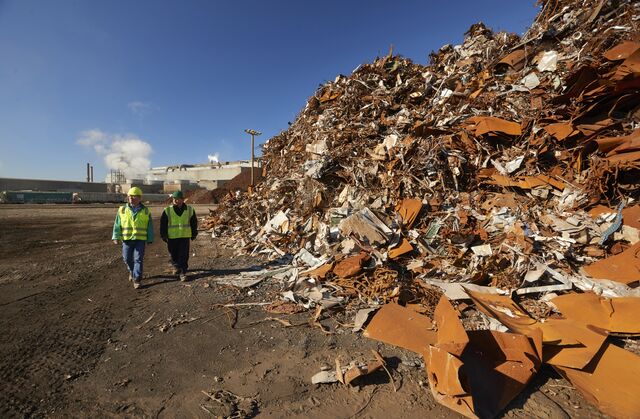 One option is to substitute coal with biomass, such as wood or agricultural waste, while trapping the emissions underground. For steelmakers it's an appealing choice because it minimizes the cost of revamping mills. But "scaling biomass is a challenge," said William Gale, a professor at University of Leeds. For example, planting forests for harvesting wood could mean less land to grow food.
That's encouraging the industry to look at renewable hydrogen as an alternative fuel. The catch is that making green hydrogen, by splitting water using clean electricity, is costly and requires huge amounts of renewable power. Currently planned capacity could produce just 1.8% of the gas the steel industry would need to achieve net zero in 2050, according to BNEF.
Still, progress is being made. Tapping Sweden's electricity surplus, SSAB AB is using hydrogen to decarbonize its entire business.
"We need acceptance that in the future we will need to use a significant amount of electricity," said SSAB's Chief Technology Officer Martin Pei.
But even if enough electricity can be generated to power the transformation, green steel will be more expensive, according to the Rocky Mountain Institute. For example, in northern Europe, costs could be 20% to 30% higher based on current power prices.
Some companies have signaled their willingness to accept the higher costs, with Volvo Group AB and SSAB AB collaborating to make vehicles out of green steel. Renewable energy giant Orsted AS has pledged to use green steel in its wind turbines to fully decarbonize its supply chain by 2040.
"There is quite strong demand for low CO2 steel," said Matthew Watkins, principle analyst at consultancy CRU Group. "There are sectors of the market that want that, but it's not seen yet whether they will pay more for it."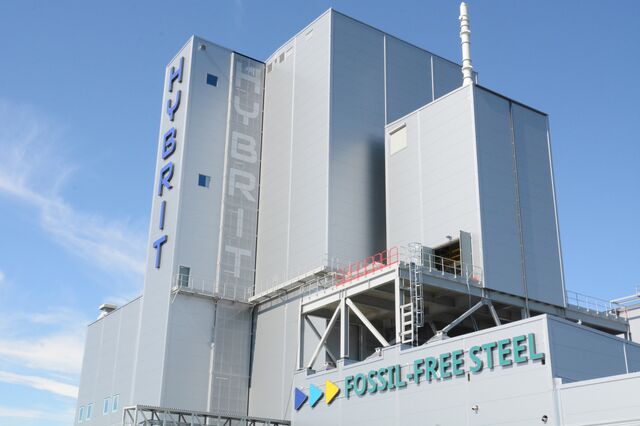 That's where initiatives such as the EU's Green Deal become critical in creating a market and making decarbonization a commercial necessity for steelmakers. It will also give a competitive edge to those pioneering green technologies, said Geert Van Poelvoorde, chief executive officer of ArcelorMittal's European business.

"When you are decarbonizing the world, producing green energy with coal-based produced steel would be crazy," he said. "When the demand for steel is increasing and you don't decarbonize, you will nullify all the efforts you have made somewhere else."

') } /*-->*/