Where a Brexit Trade Deal Matters Most to Boris Johnson
Prime Minister Boris Johnson has taken a tough stance in the opening round of the post-Brexit trade talks, saying he would be prepared to accept significant tariffs and trade barriers with the European Union.
A glance at the electoral map shows he would be gambling with his own future if he follows through with that threat. That's because voters in the districts that backed him still rely overwhelmingly on the manufacturing jobs that would be at risk if Britain fails to secure a free-trade deal.
Johnson won the 2019 general election by breaking the so-called Red Wall, convincing people in traditionally Labour-voting industrial districts in the North, Midlands and Wales to vote Tory, in some cases for the first time in their lives.
These are the places—where the likes of Airbus SE makes plane wings, pharma giant Merck & Co. manufactures medicines, and Toyota Motor Corp. produces cars—that would suffer most without a deal. In two-thirds of the 54 Labour seats that Johnson won in December, the Tory majority is smaller than the number of people employed in manufacturing in those areas, according to data from the Office of National Statistics.
"The government is going to have to make sure these voters are looked after," said Seamus Nevin, chief economist at MakeUK, the U.K.'s largest manufacturing organization. "Investment in our sector is going to be key."
Britain's business groups are already drawing up maps like these, hoping to gain leverage in the coming negotiations by showing the U.K. government how the lack of a deal, or one with only a limited scope, would cost jobs in what are now marginal Conservative seats, according to two people familiar with the matter.
Johnson hopes to secure a zero-tariff, zero-quota deal with the EU, similar to the bloc's existing agreement with Canada. It would mean extra customs paperwork for importers and exporters—but it would avoid tariffs on goods. The problem is that Johnson has ruled out meeting the EU's condition that the U.K. plays by its rules on state aid, workers' rights and the environment.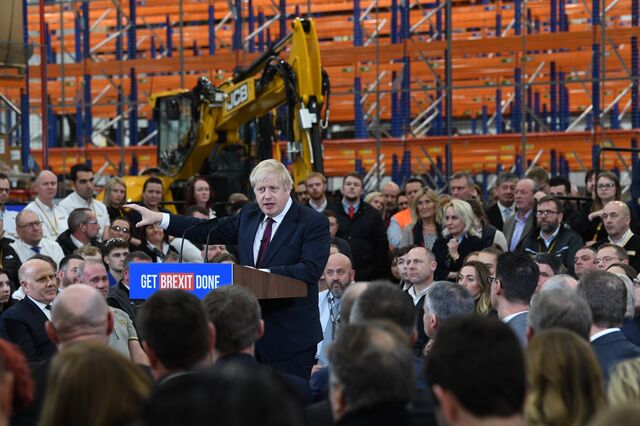 Even such a free-trade agreement would hurt the economy, according to the government's own figures. In 2018, it predicted that the economy would be 5% smaller under a free trade deal than it would be under full EU membership. Without a trade deal, and subject to World Trade Organization tariffs, the hit would be even bigger: 7.6%.
"If we were to face tariffs, delays at the border and having to comply with two regulatory regimes, it would make investment in the sector less attractive," said Steve Elliott, chief executive officer of the Chemical Industries Association. "Productivity would suffer and firms may consider relocation."
Take the northern district of Burnley, which voted Conservative in December for the first time since 1910. The area is home to a subsidiary of German plastics and paper furnishings manufacturer Surteco SE, a unit of just-in-time Japanese car parts manufacturer Futaba Industrial Co., and Velocity Composites Plc, which engineers kits that support aircraft production. The Tories won the seat by a margin of 1,352 votes: the total number employed in manufacturing jobs in the constituency is 7,000.
In Wrexham, north Wales, the Conservatives have a 2,131-vote majority. Manufacturing employs 9,000 people at firms including French drug-maker Ipsen SA, a unit of U.S. spectrometer manufacturer Ametek Inc., and Kellogg Co. In October, the maker of corn flakes said it had spent $7 million year-to-date preparing for the adverse effects of Brexit.
In 36 of the seats the Conservatives won from Labour in 2019, manufacturers employ more people than the Tory majority. If each of those districts returned to Labour at the next election in 2024, and all else remains equal, Johnson's majority would be slashed.
To be sure, Johnson may make a different political calculation about the U.K.-EU trade deal. If the EU plays tough, the prime minister could choose to stomach higher trade costs with the continent in exchange for greater freedom to compete. He may decide that prioritizing British sovereignty and the ability to diverge from the 27-member bloc would be a bigger vote-winner than staying aligned, even if it hits key electoral districts financially. Indeed, many of these newly-Tory seats voted for Brexit, following a campaign that stressed the value of Britain "taking back control" of its laws and borders.
Johnson has also talked extensively about "leveling-up" these parts of the U.K., so he may be able to mitigate any negative economic effects from a hit to U.K.-EU trade by increasing government spending in these regions.
Johnson may also hope that growth in trade with other parts of the world—another central pledge of the Brexit campaign—may compensate for any lost business with the EU, boosting Britain's manufacturing heartlands.
Independent trade experts, however, are skeptical.
"Pretty much all the analysis which we have done suggests that the losses in trade—exports and imports—with the EU will be significantly larger than any increase we can generate through agreements elsewhere," said Alan Winters, director of the U.K. Trade Policy Observatory.
If Johnson's stance on Brexit has made manufacturers nervous, they are keen to point out that he has cause to be nervous, too.