Coming In From the Cold
Sterling's Down; It Doesn't Have to Be Out
A BOE rate increase in May looks a lot more unlikely – but don't rule it out.
By and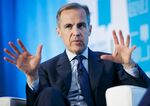 Britain's appalling winter weather has certainly made itself felt. The first estimate of gross domestic product for the first quarter was a sad 0.1 percent.
This sent sterling down a fair way versus the dollar – the Bank of England's May 10 policy decision makes a rate increase, which had been pretty well locked down a month ago, look pretty unlikely.
The weighted probability of a 25 basis-point rise plummeted to around 25 percent.
A separate report on consumer confidence today was similarly miserable. You'd almost start to think that the central bank could never raise rates at any time this year.
The currency reaction makes sense. Still, the pound would be foolish to give up all hope.
Preliminary GDP is often subject to revisions, as less than half of the total data is available. This is why the BOE doesn't include it in its models. And the numbers have form in turning out better: when similarly dire weather hit in the fourth quarter of 2010, the initial GDP estimate was minus 0.6 percent. That was subsequently revised to a final 0.1 percent reading. Quite a swing. 
And it's far too soon to say the consumer has given up. The Asda Income Tracker for March showed that, for a second month, consumers' weekly spending power rose from a year earlier. And with real income growth set to return, this could well be the nadir for U.K. shoppers. The recent bout of sunny weather will have helped by luring consumers into shops, particularly given that there is likely to have been some pent-up demand from February and March. 
Finally, the April Purchasing Manger Index reports will be published next week. These could well prove strong enough to suggest the impact of the storms was temporary. 
The Monetary Policy Committee was split at its last meeting. Its decision next month shouldn't be seen as a foregone conclusion. 
The pound needs concrete evidence of an entrenched slowdown before breaking below February's low of $1.376.  
It's a knotty issue for central bankers. But then that's why Bank of England Governor Mark Carney gets paid the big bucks. 
To contact the editor responsible for this story:
Jennifer Ryan at jryan13@bloomberg.net
Before it's here, it's on the Bloomberg Terminal.
LEARN MORE