Valuation Calculation
Sprint Isn't as Cheap as It Seems
The terms of any merger bear close scrutiny.
By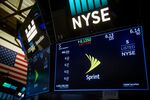 SPRINT CORP
+0.03
As of 12:57 PM EDT
T-MOBILE US INC
+0.06
As of 12:57 PM EDT
A merger between Sprint Corp. and T-Mobile US Inc. makes a whole lot of sense. Still, T-Mobile shareholders may want to pay close attention to the terms of a potential deal because they could get short-changed. 
Here's what I mean: If you just ran some basic valuation metrics to compare the wireless carriers, you'd conclude that T-Mobile is worth a lot more to investors than Sprint -- about 63 percent as of Tuesday using their ratios of enterprise value to 2017 earnings before interest, taxes, depreciation and amortization. That's fair, given that the businesses have vastly different profit trends and growth trajectories. But what you'd be missing is that Sprint shares are much more expensive than they appear because the company's financials are favorably distorted by a large amount of leased phones. 
Craig Moffett, an analyst at MoffettNathanson LLC, crunched the numbers and found that Sprint's Ebitda "is enormously inflated relative to carriers, like T-Mobile, that book their handset transactions as sales rather than leases." According to Moffett's math, when making apples-to-apples accounting adjustments, Sprint is valued at 6.5 times Ebitda, versus a multiple of 7.4 for T-Mobile. That means T-Mobile's valuation isn't 63 percent higher than Sprint's, but instead only 14 percent higher, putting the two businesses in much closer standing. This chart may show it best:
Because Sprint accounts for handset transactions as leases, the cost initially is reflected on its balance sheet, rather than as an expense on its income statement, said Moffett. And when that cost does later hit Sprint's income statement, it does so as depreciation, which is below the Ebitda line. Sprint said depreciation expense incurred on all leased devices was $2.7 billion for the nine months through December. Operating income was $2.5 billion during that span. 
T-Mobile shareholders, including its parent Deutsche Telekom AG, would be right to keep this in mind as they restart negotiations with Masayoshi Son, the billionaire who controls Sprint. 
That's not to say a deal shouldn't happen. The strategic rationale more than checks out, and analysts have pegged synergies at around $30 billion (although one should also take into account costs associated with a long and difficult integration process and the fact that the companies both carry a lot of debt). It was reportedly a discord over who would control the combined company -- not the takeover price -- that killed a deal last time around. 
But the push to finally get these two together doesn't mean T-Mobile shareholders should ignore an obvious question: Why in the world does Sprint fetch such a high valuation? And how much is it really worth to them?
To contact the editor responsible for this story:
Beth Williams at bewilliams@bloomberg.net
Before it's here, it's on the Bloomberg Terminal.
LEARN MORE