Alpha Ahoy
Keepin' the Hedge-Fund Faith
Investors persist in a hopeful search for alpha.
By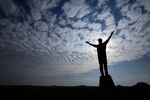 MAN GROUP PLC
+0.75
As of 7:09 AM EDT
Active managers claim that the more volatile financial markets are, the better their chances of outperforming their passive brethren. First-quarter results just announced by Man Group Plc, the world's largest publicly traded hedge-fund firm, suggest investors are buying their story even as that alleged alpha advantage remains elusive.
Market volatility measures in fixed income, stocks and currencies all jumped in the first three months of the year. That environment should present more possibilities to profit for the active crowd. As Man's Chief Executive Officer Luke Ellis said in February, those kinds of market moves "create significant alpha opportunities across the firm."
Man's assets under management climbed to $112.7 billion by the end of March, rising faster than analysts had estimated. That's despite investment losses totaling $1.8 billion. News of an additional $100 million share buyback, following the completion of a same-sized repurchase that began in October, helped drive the company's shares higher on Thursday.
U.K. fund managers have underperformed broader indexes this year. As a result, Standard Life Aberdeen Plc, Ashmore Group Plc, Jupiter Fund Management Plc and Schroders Plc trade at discounts to analysts' price targets, ranging from almost 10 percent for Ashmore to as wide as 23 percent for SLA. Thursday's rally saw Man's shares close the gap to less than 6 percent.
Man's first-quarter inflows bode well for the rest of the U.K. fund management industry. But unless active managers start to beat their indexes on a meaningful and sustained basis, investor disillusion will return with a vengeance and more money will move once again to the passive players in the industry.
To contact the editor responsible for this story:
Jennifer Ryan at jryan13@bloomberg.net
Before it's here, it's on the Bloomberg Terminal.
LEARN MORE