Drywall Deal
Warren Buffett Adds Intrigue to an Unwanted Bid for USG
The Chicago-based drywall maker says a takeover offer is way too low, while Buffett thinks it's just right. Neither is correct.
By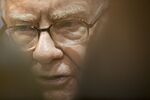 USG CORP
-0.10
At Closing, May 24th
BERKSHIRE HATHAWAY INC-CL A
-2550.00
At Closing, May 24th
USG Corp., the company that invented Sheetrock more than 100 years ago, was just starting to get reacquainted with investors. Now, one of them wants to buy it out -- potentially cutting short management's moment to showcase the healthier, reorganized manufacturer that's spent recent years recovering from two consecutive financial meltdowns.
Last month, Chicago-based USG firmly rejected a $5.9 billion takeover offer from Gebr. Knauf KG, its German rival and second-largest shareholder. However, the bid has the support of USG's No. 1 shareholder -- none other than Warren Buffett's Berkshire Hathaway Inc. So instead of backing off, Knauf decided to up the ante on Tuesday, calling on USG investors to vote against all four of the directors nominated for election at the building-materials company's May 9 annual meeting.
USG may not be a familiar name to most, but this M&A situation is as juicy as any: An American manufacturing staple that survived an onslaught of asbestos lawsuits and the U.S. housing crisis has now fallen prey to a somewhat hostile approach from a foreign entity in the age of Trump and protectionism. And while having Buffett in its corner helped USG in the past, the billionaire is now complicating matters for the company's leadership. 
One can see how the timing of Knauf's offer may feel opportunistic. USG has been working to streamline its operations, in large part by selling off a distribution business that accounted for a third of revenue but less than 6 percent of operating profit. The company used proceeds from that $670 million disposal to pay down debt, substantially improving its balance sheet and slashing interest expenses that had been taking a big bite out of operating profits.
At USG's investor day last month, CEO Jennifer Scanlon spoke at length about the changes being made and the renewed outlook for profits and growth. She was promoted to the top job just 17 months ago, and in that time USG's stock began to stage a recovery, effectively making its valuation cheaper for bidders such as Knauf.
Knauf's $42-a-share bid is higher than USG's stock has traded since the housing crisis more than a decade ago, the period during which Berkshire helped prop up the company by purchasing debt that it later exchanged for common stock. But Buffett's support for the Knauf proposal isn't necessarily a good gauge for other USG shareholders. While Berkshire has profited from its USG investment, the stock's performance and gypsum prices didn't live up to expectations. Buffett said last year that USG was "not one of my great ideas." He may be more keen to get out and move on than others who see the start of a turn in USG's fortunes.
When Knauf said that it presented an "immediate, substantial and cash-certain value for your investment," it wasn't exactly lying. The offer is 24 percent higher than USG's unaffected 20-day average closing price -- in the ballpark of a typical takeover premium -- and it would deliver an upfront cash payment at a time when analysts are mixed about the direction of USG's stock. Still, Knauf is valuing USG at about 11 times analysts' estimated Ebitda for this year, which is well below the average multiple for U.S. deals of this size during the past five years, as takeover valuations have been on the rise. That's where USG has a point.
Buffett may be happy with $42 a share, but other USG investors have an opportunity to put pressure on the board to at least negotiate with Knauf and see if they can work out a price more in line with today's takeover valuations. It could end in no deal -- after all, Buffett hasn't had much M&A luck lately. In any case, this situation promises to take more twists and turns before next month's vote. 
To contact the editor responsible for this story:
Beth Williams at bewilliams@bloomberg.net
Before it's here, it's on the Bloomberg Terminal.
LEARN MORE