A MISSION TOO FAR?
You Only Live Twice, Fosun
Buying the James Bond studio would risk returning the Chinese group to disfavor.
By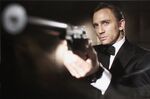 FOSUN INTERNATIONAL LTD
-0.04
As of 3:33 AM EDT
ASAHI GROUP HOLDINGS LTD
+4.00
At Closing, May 25th
There's a lot about Fosun International Ltd.'s overseas ambitions that doesn't add up.
At a time when the Chinese conglomerate's privately owned peers -- from Dalian Wanda Group Co. and HNA Group Co. to Anbang Insurance Group Co. -- are busy selling assets acquired during a debt binge, Shanghai-based Fosun is not only aiming high but also seeking out assets that have been declared off limits by Beijing.
Studio 8, a Fosun-backed filmmaker, is in the early stages of exploring the purchase of a bigger movie company such as MGM Holdings Inc., which is behind the James Bond franchise, or Miramax, the firm founded by disgraced producer Harvey Weinstein, Bloomberg News reported Tuesday.
Even an indirect purchase would show that Fosun's billionaire founder Guo Guangchang is escaping the shackles binding other Chinese acquirers. Film and entertainment are among five areas subject to government restrictions on overseas investments.  1
A U.S. studio acquisition might transgress on another count. In late 2016, Beijing began curbing deals valued at $1 billion or more in industries that are outside a buyer's core business. MGM has an enterprise value of $6 billion. 
Whether such a purchase would be non-core is less clear. Fosun has interests from pharmaceuticals to insurance. The company espouses "wealth, health and happiness" as the guiding mantra of its investment philosophy, which involves catering to the desires of China's middle-class consumers. That covers pretty much anything you can think of.
Fosun's plans for Studio 8 are all the more striking when compared with Beijing's crackdown on other private conglomerates.
Anbang, Wanda and HNA were singled out along with Fosun last year for their heavy borrowing, and have since embarked on multibillion-dollar sales of assets. 2 Fosun sold Bermuda-based insurer Ironshore Inc. for about $3 billion a year after buying it, though that transaction predated China's clampdown on capital outflows. Otherwise, all it's offloaded so far is are buildings in Sydney and London.
It has done plenty of buying.
In December, Fosun forked out $941 million for a fifth of Tsingtao Brewery Co., allowing Japanese beer giant Asahi Group Holdings Ltd. to exit a disappointing eight-year investment. That deal came a few months after it got Indian regulatory approval for a scaled-back stake in drugmaker Gland Pharma Ltd. 
In February, Fosun agreed to buy a controlling stake in Brazilian brokerage and wealth management firm Guide Investimentos, days after acquiring struggling French fashion house Lanvin. The firm also struck a deal to take control of Austrian lingerie maker Wolford AG last month. Apart from Gland, which cost $1.1 billion, most of Fosun's recent deals have been under $1 billion.
Still, the question remains why Fosun has been immune to the constraints placed on its counterparts. Part of the explanation may lie in its success in reducing debt levels, which have come down considerably in the past five years.
It may also have won special dispensation by adhering to areas that align with China's strategic objectives: Pharma acquisitions clearly fit within that category, while Fosun may have performed a national service by taking Tsingtao off the hands of its Japanese investor.
If such activity has brought Fosun back into political favor, then a tilt at MGM or Miramax would risk reversing its fortunes.
As all movie-makers know, late plot twists are common, and not all films have happy endings.
The five restricted areas are: property; hotels; investments contravening environmental standards; film; and entertainment. 
To contact the editor responsible for this story:
Matthew Brooker at mbrooker1@bloomberg.net
Before it's here, it's on the Bloomberg Terminal.
LEARN MORE