HAVE FAITH
Elliott Joins the Value Disciples
The U.S. hedge fund's Hyundai investment is a boon for a beaten-down crowd.
By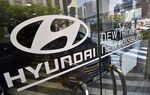 HYUNDAI MOTOR CO
-1000.00
At Closing, May 25th
KIA MOTORS CORP
-450.00
At Closing, May 25th
Disciples of Benjamin Graham, don't despair. Elliott Management Corp. is joining your dwindling army, betting that value will finally beat growth this year. 
The U.S.-based activist hedge fund run by billionaire Paul Singer said it bought a stake of more than $1 billion in several Hyundai Motor Group entities, including car manufacturers Hyundai Motor Co. and Kia Motors Corp., as well as parts maker Hyundai Mobis Co. Shares of all three companies rose for a third day on Wednesday. Elliott is calling on the South Korean chaebol to provide a clear plan to improve operations.
Buying into Korean carmakers is a curious departure for Elliott. Of the 60-plus companies that Elliott has held stakes in since 2010, only four were industrial companies, according to data compiled by Bloomberg Intelligence. Technology stocks were by far the hedge fund's favorite.
In addition, it's unclear whether Elliott has had much success improving Korea Inc.'s corporate governance. Its attempt to block Cheil Industries Inc.'s takeover of Samsung C&T Corp. failed miserably. And while Samsung Electronics Co. has rallied more than 50 percent since the start of Elliott's involvement in October 2016, the shares have arguably benefited more from the super-cycle in memory chips. SK Hynix Inc., a competitor in the semiconductor business, has gained 95 percent over the same period.
So why Hyundai, and why now?
Corporate governance in Korea is perhaps poised to change, with the national pension fund planning to introduce a stewardship code this year. But more importantly, compared to growth companies, value stocks in emerging markets haven't been this much of an underdog since 2000. Over the past year, the MSCI Emerging Markets Growth Index rallied 45 percent, outperforming its value counterpart by close to 27 percentage points.
And few large caps in the emerging markets space are as cheap as the Hyundai car companies. Hyundai Motor and Kia both trade at less than 0.5 times book. In other words, Elliott can profit even if it has little success with the controlling Chung family, as long as value catches up with growth.
Still, the road ahead will be long and tortuous: Buying value always requires a longer time horizon, whereas chasing growth is easy and momentum-driven.
For example, Akamai Technologies Inc. has rallied 21 percent since Elliott took a stake in mid-December, while the Nasdaq is little changed. With Elliott's activist clout, the investment was almost a no-brainer. Boston-based Akamai, an internet content delivery services provider, missed out on the tech rally last year and is a cash cow, generating $800 million of operating cash flow in 2017. All Elliott needs to do is pressure the company to pay dividends and buy back its shares, not unlike what the fund did with Cognizant Technology Solutions Corp.  
Elliott will need a ton of patience to deal with a stubborn, slow-moving Korean business group like Hyundai. Then again, now that the global tech rally is over, there aren't many easy pickings like Akamai left. 
As long as it has faith in classical finance concepts such as long-term mean reversion, this looks like a promising play.
(
Adds share gains of Hyundai units in the second paragraph. An earlier version of this column was corrected to fix a typographical error in the spelling of Kia.
)
To contact the editor responsible for this story:
Matthew Brooker at mbrooker1@bloomberg.net
Before it's here, it's on the Bloomberg Terminal.
LEARN MORE