Finger in Every Pie
Bike Rentals + Food Delivery. Fusion That Works
This is about connecting consumers' daily activities under one umbrella.
By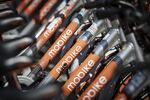 Chinese bike-rental company Mobike may soon be gobbled up by compatriot startup Meituan Dianping, Bloomberg's Lulu Chen reported Wednesday.
We already know China's bicycle business is getting out of hand, so any move to consolidate and slow the rate at which two-wheelers are piling up like trash would be good news. The notion that a player in another frothy sector -- food delivery and reviews -- could bring about such rationality is a novel one.
I think it might just work.
The first reaction to such a tie-up is to imagine food being delivered on bikes, and this could be part of it. In reality, it's probably more about connecting consumers' daily activities under one umbrella.
Both Dianping and Mobike are backed by Tencent Holdings Ltd. and they're the country's third- and 12th-largest startups by value, according to CB Insights. Tencent's WeChat service is already the most powerful communications and commerce platform in China, with payments being a major thread tying its various offerings together.
Rival food-delivery company Ele.me got bought out by Alibaba Group Holding Ltd. earlier this week for a $9.5 billion valuation, so a move to bulk up Dianping is to be expected. Maybe this deal is a sign the Jack and Pony show is coming to an end.
To contact the editor responsible for this story:
Katrina Nicholas at knicholas2@bloomberg.net
Before it's here, it's on the Bloomberg Terminal.
LEARN MORE