Stow the Cork
Hold Off on the Spotify Champagne Toasts
The small number of shares available to trade makes it hard to settle on a reliable valuation for the music streaming company.
By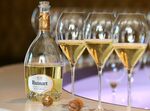 SPOTIFY TECHNOLOGY SA
+0.22
At Closing, May 24th
Spotify's not-IPO was a raging success, right? Nope. The boring answer is that it's too soon to declare success or failure, no matter what the headlines say. 
Yes, the streaming music company's first public-market stock trades at $165.90 a share gave Spotify Technology SA a valuation of about $33 billion, including the shares related to employee-owned stock options. Spotify's internal assessment of the company's fair value was $50.70 a share a little more than a year ago, and the stock is now trading at three times that level. It's an impressive jump in value for a company that took a risk by ditching a conventional IPO and has lingering questions about its business model. 
But we need to hold off on declaring Spotify's direct stock listing a victory. A fair assessment will take months. And in one respect, Spotify's first day as a public company was a failure. And it's all because of the "float."
That term refers to the percentage of a company's total stock available to buy and sell. At the first public trades of Spotify on Tuesday, about 5.6 million shares changed hands, according to a company representative. That is an incredibly small 3.1 percent of Spotify's 178 million total outstanding shares. 1 This is an irresponsibly small slice of Spotify to trade out of the gate.
There are two dangers with a small float: Share price bumpiness and legitimate questions about the valuation's validity. 
It's well known that a small number of shares available to trade tends to magnify stock price movements. As Bloomberg's Alex Barinka wrote early Tuesday, Spotify's advisers were eager to persuade shareholders to agree to sell as quickly as possible to "help manage volatility and generate sufficient supply to ward off a liquidity squeeze, which could lead to a shortage of shares and a run up in the price."
With only a few million shares on the market, if a single Spotify stockholder wants to sell his or her equity in coming weeks, the company's share price could dive suddenly. There's no way that Spotify or its advisers wanted to sell fewer than 6 million shares. (Bloomberg data show about 24 million Spotify shares traded as of 2:55 p.m. New York time. It's common for a newly public company to have shares change hands multiple times on the first trading day.) 
And second, I'm not sure Spotify's market value is truly legitimate if it's based on a small number of total available shares. If holders of just 3 percent of Spotify's stock agreed to sell in the company's first moments as a public company, that means the owners of nearly all of Spotify's stock believed their shares are worth more than $166 each. Only time will tell if the sideline-sitters are correct. 
In historical terms, Spotify's percentage of shares sold was a new low. The smallest slice of total shares sold in a large technology company IPO was 4.7 percent by Palm all the way back in 2000, according to research firm Dealogic. 2 In 2012, nearly 20 percent of Facebook's total shares changed hands in its IPO. For Snap Inc. last year, it was about the same. Yes, Spotify didn't have an initial public offering. But the distinction between a conventional IPO and Spotify's direct route to the stock market doesn't matter in this case. 
Of course in coming months more Spotify stockholders and employees will opt to get off the sidelines and sell their stock. A truer picture will emerge of Spotify's fair value, although it could be messy at times.
For now, the stock market debut showed that the vast majority of Spotify's private stockholders and potential public stock buyers still haven't settled on a fair price for the shares. If the goal of Spotify's stock market listing was to gain a broader, real-world assessment of its value, then the company's direct listing was a flop. 
It's possible more of Spotify's existing stockholders will choose to sell their shares later on Tuesday. 
To contact the editor responsible for this story:
Daniel Niemi at dniemi1@bloomberg.net
Before it's here, it's on the Bloomberg Terminal.
LEARN MORE