Insurance Premium
Humana's Good Fortune May Cost Walmart
An already expensive insurer just got more attractive to potential buyers.
By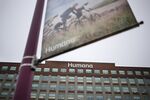 HUMANA INC
-0.59
As of 9:33 AM EDT
WALMART INC
+0.54
As of 9:33 AM EDT
The good news just keeps piling up for Humana Inc.
The health insurer's shares jumped after a report on Friday that Walmart Inc. may be interested in acquiring it, capping a 251 percent increase over the past five years. And on Monday, the U.S. government announced it would boost payments to insurers who run private Medicare Advantage (MA) plans by nearly twice as much as the government had previously estimated. As the nation's second-largest MA insurer, Humana will be among the largest beneficiaries. 
Bloomberg has reported Walmart isn't sure about buying Humana, that it may be interested in a partnership instead. But Walmart may not be able to dilly-dally on a bid. Humana's latest stroke of good fortune may soon make it more expensive -- or more appealing to another bidder. 
MA, a private alternative to traditional Medicare, is growing rapidly as the U.S. population ages. It was already a huge focus for Humana, rendered even more crucial by the company's retreat from the Affordable Care Act's insurance exchanges. Now it will be even more profitable. 
It's not just the growth that makes it attractive for a buyer such as Walmart, which has a large pharmacy business. Medicare recipients tend to be older and need a lot of drugs. That likely helped motivate pharmacy and pharmacy benefit management (PBM) giant CVS Health Inc. to acquire Aetna Inc., which is the third-largest MA insurer. Medicare recipients also typically have chronic conditions and use health care frequently, meaning an insurer with a lot of retail clinics could have both revenue and cost-control opportunities. That's a benefit for CVS-Aetna and would be for Walmart-Humana.  
Though Walmart can afford to buy Humana, it's already not cheap. Humana trades at a higher valuation than Aetna's purchase price, even before adding any deal premium. The MA rate increase won't make it any cheaper.
And there are plenty of potentially interested buyers. Walgreens Boots Alliance Inc.'s pharmacy business looks exposed as Amazon.com Inc.'s entry into the health-care business looms and rivals consolidate. Humana has by far the largest PBM still available to acquirers and offers opportunities to drive business to Walgreens pharmacies and clinics. 
Anthem Inc. is a fairly distant sixth in the MA market. Buying Humana would boost that business and speed up Anthem's efforts to build its own PBM. Antitrust could be a concern for an Anthem-Humana deal, but Anthem is more focused on employer insurance than Humana, and the Trump administration may be inclined to give it a pass.  
Or Humana could do some buying of its own. Its acquisition of home health-care giant Kindred Healthcare last year expanded its capacity to provide care for MA enrollees. It could continue down that path or target more Medicare growth by acquiring a smaller competitor such as WellCare Health Plans Inc.
Walmart likely still has questions to work through on the price of this deal and its ability to successfully integrate a giant insurer. But it may not have the luxury of mulling it over forever. 
To contact the editor responsible for this story:
Mark Gongloff at mgongloff1@bloomberg.net
Before it's here, it's on the Bloomberg Terminal.
LEARN MORE