Elegant Sufficiency
Alibaba Might Want to Watch the Goodwill
If growth slows, that balance sheet item will become harder to support.
By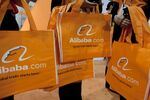 ALIBABA GROUP HOLDING-SP ADR
+1.83
At Closing, May 25th
Alibaba Group Holding Ltd.'s latest acquisition didn't come as a great surprise.
Between them, Alibaba and its affiliate Ant Small & Micro Financial Services Group Co. already owned 43 percent of food delivery service Ele.me.
Alibaba will take full control at an enterprise value of $9.5 billion, it said in a statement Monday, without stating the actual transaction price.
As Alibaba's deal count climbs, so does the goodwill on its balance sheet. By the end of December it had surpassed $25 billion, more than 10 times the $1.9 billion held in March 2014. Since goodwill is the premium paid above a target's book value, the purchase of Ele.me should add to this balance.
This rising figure doesn't look quite as stark when you consider Alibaba's growth. As a percentage of total assets, goodwill ballooned in 2015 before stabilising over the next few years to now sit at around 23 percent. Ele.me will probably raise this ratio further.
None of Alibaba's peers has a goodwill-to-asset ratio that comes anywhere close. Amazon.com Inc.'s stands at 10.2 percent, eBay Inc. at 18.4 percent and JD.com Inc. at a mere 3.6 percent. That may say as much about those firms' less-acquisitive natures, but for sure, $25 billion and a ratio approaching 25 percent is a large overhang.
Companies justify goodwill by pointing to the incremental profit or cash flow brought as a result of the deal. Alibaba's continued revenue and income growth would seem to justify its history of investments and takeovers. 
But if the growth slows, or stops, that goodwill will become harder to support. That alone may be reason enough for Alibaba to tame its appetite.
To contact the editor responsible for this story:
Katrina Nicholas at knicholas2@bloomberg.net
Before it's here, it's on the Bloomberg Terminal.
LEARN MORE