Michael Spencer Gets a Title and $940 Million to Play With
A counterbid for Nex is possible but not probable.
By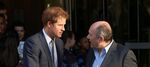 CME GROUP INC
-0.75
At Closing, May 23th
Michael Spencer is selling a business and acquiring a title. The broking entrepreneur has accepted CME Group Inc.'s 3.9 billion pound ($5.4 billion) cash and shares offer for Nex Group Plc, the bond trading platform in which he holds an 18 percent stake. He gets a sack of cash, shares in the Chicago exchange, a board seat and role of "ambassador". It's probably the best offer he'll get.
The half-cash, half-paper structure suggests CME was concerned about the indebtedness it would assume had it proposed paying entirely in cash. Exchanges are regulated entities that are rightly wary of surrendering financial strength. This offer will keep leverage lower than twice its Ebitda -- high enough for CME.
Spencer ends up with about 335 million pounds of cash and shares in CME worth more than $470 million based on Thursday's closing price. CME is tying him to the success of the acquisition -- wise given that the bidder hasn't done a big deal integration for a while and plans to shed about 16 percent of the combined workforce.
The 10 pound-a-share offer looks like a deterrent to rival bids. It's a 58 percent premium on Nex's three-month average share price before CME's interest emerged last week, and the stock was doubtless already supported by hopes of a takeover. The multiple is an eye-watering 29 times next year's estimated earnings, against CME's 24 times.
Still, Nex's forecast growth plus a cost-cutting opportunity -- put at $200 million annually within three years -- suggests CME can achieve returns matching Nex's cost of capital, if the integration goes to plan.
A counterbid is possible but not probable. London Stock Exchange Group Plc has the advantage of being able to offer London-listed shares. But it would need a very good reason to gatecrash when it has no permanent CEO. Some of its bankers are advising CME, a clue that Nex might not be a must-have for the U.K. exchange. 
Deutsche Boerse AG probably wouldn't want to undermine its credit rating. The wildcard is Intercontinental Exchange Inc., which has shown itself willing to tolerate temporarily higher leverage for M&A. Dislodging CME from an agreed deal at a high price would be brave, though.
Spencer -- who may have missed out on a British peerage after the Libor scandal -- now has to get used to not being the boss and, if he really is to be ambassadorial, wearing a tie. We'll see how long that lasts.
To contact the editor responsible for this story:
James Boxell at jboxell@bloomberg.net
Before it's here, it's on the Bloomberg Terminal.
LEARN MORE