One for the Predators
An $11 Billion Victory for Hostility (and Hedge Fund Arbs)
Even fierce political pressure couldn't halt Melrose's takeover of GKN.
By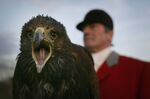 MELROSE INDUSTRIES PLC
-2.00
As of 6:59 AM EDT
Hostile bids are never easy but the success of the bitterly contested takeover of U.K. engineer GKN Plc shows that the effort can still pay off even in today's highly politicized M&A climate.
The winning buyer, Melrose Industries Plc, has sent a shot across the bows of all poorly performing companies in the U.K. That is no bad thing.
Melrose deployed every available tactic to heap pressure on its target -- speed, a "take it or leave it" final offer, a low acceptance threshold and, of course, mud-slinging. With that approach, it was never going to get GKN board approval for a deal. That meant getting into conflict with stakeholders like the unions and customers such as Airbus SE.
Downing Street intervened. But to what effect? The British government made Melrose offer binding commitments about its conduct if it succeeded. That's only the second U.K. bid situation to include such undertakings, the other being Softbank Group Corp's purchase of Arm Holdings.
Most of the pledges extracted either cost Melrose nothing or, in the case of a five-year commitment to maintain R&D spending, were a fair way of ensuring a deal didn't hurt the U.K. economy. Melrose, unlike Softbank, has made no commitments on headcount. In the context of GKN's investment cycle, five years is a snapshot.
True, Melrose offered a state veto on any sale of GKN's main aerospace business within five years too. Forget a quick flip. But Melrose always said a GKN turnaround would take as long. What's more, this pledge couldn't be agreed with the U.K. takeovers regulator. 
In the end, Melrose only had to win over half of GKN's shareholders. Like Britain's Brexiteers, it won 52 percent. A big bunch sold out to merger arbitrageurs early on. Melrose's mainly share-based offer exploited a yawning credibility gap between the two sides. Melrose said it could lift GKN's margins, with little evidence beyond its track record in previous deals. That counted for more than GKN's immensely detailed and quantified defense.
Melrose is paying 469 pence a share -- based on its rising Thursday stock price -- for a business with a plausible break-up value of about 500 pence a share. It needs that cushion. This is Melrose's most ambitious turnaround yet. The hostile tactics make a culture clash more likely when it gets down to business. The political ruckus could re-emerge when Melrose tries to exit.
The government now says it expects behavioral commitments in the case of any takeover that "engages" stakeholders. But predators will feel emboldened. They have seen a hostile bid succeed despite political pressure. Under-performing CEOs of British firms, watch out.
To contact the editor responsible for this story:
James Boxell at jboxell@bloomberg.net
Before it's here, it's on the Bloomberg Terminal.
LEARN MORE