Brexit and the Beast
Miserable Retailers Should Cheer Up. This Is the Nadir
Look past a slew of disappointing reports from U.K. chains including Kingfisher.
By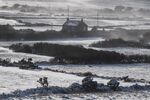 KINGFISHER PLC
-3.40
At Closing, May 23rd
MOTHERCARE PLC
-5.70
At Closing, May 23rd
Welcome to Brexit.
The circumstances set in train by Britain's vote to leave the European Union 18 months ago are hitting home for U.K. retailers.
The precipitous fall in the pound against the dollar after the referendum raised their sourcing costs, and meant sales of many items generated less profit. The drop also drove inflation ahead of wage growth, hurting demand for a range of items but particularly for expensive purchases, such as new kitchens.
Add in an arctic blast that deterred consumers from visiting the shops -- nothing to do with Brexit, but unhelpful nonetheless -- and non-food retailers are suffering.
Its little wonder then that home improvement chain Kingfisher Plc reported a sales slowdown on Wednesday, and it said that the outlook for the U.K. remained uncertain.
This report was accompanied by a slew of bad news from other retailers, including Mothercare Plc.
Cheer up. This is likely to be the nadir for U.K. retailers.
Inflation is set to ease -- by the end of the year, there could be little to no food price gains in Britain -- and Bank of England officials are now worried about faster wage growth. Official data on Wednesday showed a pickup in pay growth that puts Britons on the verge of regaining spending power.
Meanwhile, sterling has strengthened against the dollar. That should bring shops some relief when it comes to purchasing food and ingredients produced outside the U.K., and clothing and home furnishings made in Asia.
As my Gadfly colleague Marcus Ashworth argued, the BOE seems determined to raise rates. That looks tricky for retailers, as higher borrowing costs could weigh on consumers' incomes and their confidence.
But increases are likely to be gradual. In addition, mortgage holders coming off of fixed deals secured at higher rates may have more of a cushion to absorb higher borrowing costs once they refinance.
What's more, the likes of Toys "R" Us Inc. and Maplin Electronics Ltd coming out of the market -- as well as the raft of stores to be closed through a restructuring process known as a Company Voluntary Arrangement -- should take capacity out of the industry.
That's good news for the retailers that are left standing.
But that's the tricky part.
Uncertainty around what Brexit Britain will look like will continue. Many retailers will still have hedges for their dollar exposure, so the benefit from the weaker greenback isn't as clearcut. It will take a while for stores to close, so capacity won't come out of the market overnight.
What's more, the snowy weather will have affected most retailers. Reports from those with March year-ends, such as Marks and Spencer Plc, are particularly vulnerable as there's less time in the financial year to make up for lost sales.
Any revival won't be immediate. And in the meantime, retailers need to be careful they don't make things worse by making the same mistakes as those chains that have succumbed.
While it's important to have an online capability, as Gadfly has argued, having the products that customers actually want to buy, at prices they are prepared to pay, is the most important determinant of success or failure. It's notable that Associated British Foods Plc's Primark, which does this -- and all without an internet presence -- has continued to thrive.
Toys "R" Us and Mothercare also didn't keep their stores up to date. That's another lesson for other bricks and mortar chains.
Those that survive the next few months should emerge stronger. The trouble is, outwitting shopageddon isn't a given.
To contact the editor responsible for this story:
Jennifer Ryan at jryan13@bloomberg.net
Before it's here, it's on the Bloomberg Terminal.
LEARN MORE