Nope
General Dynamics Doesn't Need to Sweat a Bidding War
The defense contractor could crush a rival offer for an information-technology target, but it doesn't have to.
By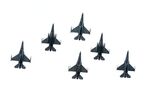 GENERAL DYNAMICS CORP
+2.20
As of 1:06 PM EDT
CACI INTERNATIONAL INC -CL A
-0.45
As of 1:01 PM EDT
The highest offer doesn't always win a bidding war.
CACI International Inc. on Sunday lobbed in a last-minute attempt to disrupt General Dynamics Corp.'s planned $9.6 billion purchase of information-technology company CSRA Inc. CACI is attempting a deal whose enterprise value is roughly double its own; General Dynamics is a prime U.S. defense contractor worth $67 billion. You could almost hear the laughter in the condescending press release General Dynamics put out in response, listing a litany of reasons why CACI's $44-a-share bid, while nominally higher, is inferior to its own offer of $40.75. It's not even bothering to raise its bid.
Shares of CSRA still climbed past General Dynamics' bid in early trading on Monday in a sign that some traders are expecting the final price to be higher. But there's good reason to think General Dynamics can get away with standing firm.
First, General Dynamics' agreement with CSRA includes a $204 million breakup fee should the target company sign a deal with someone else. If you back that out of CACI's offer, the bid is really more in the $42.75 range. That's still higher than what General Dynamics is offering, but only by about 5 percent. More importantly, roughly two-thirds of CACI's nominal offer price is derived from stock, whereas General Dynamic is offering all cash.
CACI's proposed exchange ratio of 0.184 is fixed, meaning the ultimate value of its bid will fluctuate based on where its shares are trading. CACI closed at a record last Friday, but it didn't hold on Monday as shareholders assessed a deal that would be the largest attempted by the company, and one that would balloon the combined entity's leverage to an estimated 5 times its Ebitda: 
The debt load and integration risks are CSRA shareholders' problem, too, as they would wind up owning the majority of the merged company at CACI's proposed exchange rate.
It's worth noting that CSRA turned down cash-and-stock bids of $41 and $42 from two other companies in favor of a deal with General Dynamics, according to its proxy statement. The board noted risks in those buyers' financing capabilities and was concerned about the impact of market fluctuations on their bids. It thought seeking price increases from either "may not be desirable" for CSRA shareholders because any boost to the cash portion of the bids would further strain the balance sheet of a combined company. We can't definitively say that CACI was one of those companies, but the CSRA board's attitude toward stock offers and a heavily leveraged merged entity don't seem to bode well for this counter-bid.
It's possible that General Dynamics is forced to make a small bump to its bid to get this purchase across the finish line. But it seems to have a deal firmly in its grasp.  
To contact the editor responsible for this story:
Beth Williams at bewilliams@bloomberg.net
Before it's here, it's on the Bloomberg Terminal.
LEARN MORE