Bramson's Back
Barclays Activist Can Afford to Be a Pacifist
Holding Staley to his targets would be victory enough for Edward Bramson.
By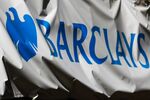 BARCLAYS PLC
+0.90
At Closing, May 25th
UBS GROUP AG-REG
-0.06
At Closing, May 25th
Activist investor Edward Bramson targets companies that are undervalued because of what he calls operational deficiencies.
Barclays Plc certainly fits the bill: the British bank trades at a steep discount to peers, returns on equity are meager and its investment banking arm loses money. But history suggests a radical restructuring -- like a spin-off of the latter business -- isn't on the cards. Holding CEO Jes Staley to his targets, though, would be victory enough.
Past activist tilts at big banks, especially those that involve breaking them up, rarely go to plan. Twitchy regulators and conservative boards tend not to like drastic measures, especially those that might weaken financial support and hurt client confidence.
Switzerland's UBS Group AG saw off Knight Vinke's effort to make it hive off its investment bank. At Credit Suisse Group AG, agitator Rudolf Bohli seems to have toned down his rhetoric. It's hard to see Barclays being very different. Any bid to ditch investment banking would be seen as costly and disruptive, especially when weighed against the buybacks and increased dividends Staley is promising.
Staley has, in fact, done a lot of the hard work that activists might have agitated for. The CEO has sold the Africa business, exited retail banking in continental Europe, eliminated jobs and has completed the sale of unwanted assets. Bramson's 10-point plan for Barclays, if ever it materializes, is unlikely to have anything quite as radical on it.
Where Bramson could help Barclays' long-suffering shareholders is in holding Staley to account in meeting his targets. These include boosting return on tangible equity to more than 9 percent by 2019 from 5.6 percent in 2017.
Getting there will involve a mix of cutting costs and boosting revenues, especially at the investment bank. Almost 1 billion pounds ($1.4 billion) of extra revenue could be unlocked if that division's performance was improved, according to UBS analysts. Some of that will depend on volatility normalizing; the rest will depend on how Barclays' investment bankers spend the money they've been allocated. There's scope here for an activist to hold Barclays managers' feet to the fire.
There is an opportunity for value to be unlocked at Barclays. The bank trades at a 30 percent discount to book value, while most European peers trade at a slight premium, according to Bloomberg data. If the U.K. economy holds up as it has done, if the interest-rate cycle progresses as expected, and if Barclays actually delivers its plan as promised, some of that gap should close. The resolution of past legal woes -- from the mis-selling of payment protection insurance to toxic mortgage bonds -- should provide a tailwind, too.
If things don't go to plan, it will be time to put on the boxing gloves. Until then, Bramson the activist can afford to be a pacifist.
To contact the editor responsible for this story:
Edward Evans at eevans3@bloomberg.net
Before it's here, it's on the Bloomberg Terminal.
LEARN MORE