Good Money After Bad
Beware Biotech IPOs Bearing Alzheimer's Retreads
Alzheon tries to squeeze life out of a failed drug, a too-familiar playbook.
By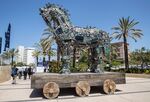 AXOVANT SCIENCES LTD
+0.01
At Closing, May 25th
Perseverance can be admirable. But in biotechnology, it's often a mistake. 
Massachusetts biotech Alzheon Inc. filed an S-1 with the SEC on Friday ahead of a planned IPO. It should arguably come with a warning label. The company plans to run a a new final-stage trial for a previously failed Alzheimer's drug, saying it benefited a subset of patients in an earlier trial.
If that sounds familiar, it's because Axovant Sciences Ltd. used a nearly identical strategy for a cast-off GlaxoSmithKline PLC Alzheimer's drug to launch one of the biggest-ever biotech IPOs in 2015. The firm's drug failed a Phase 3 trial in a closely controlled subset of patients in September, causing Axovant shares to fall by more than 70 percent.
This is a reminder that many in biotech refuse to learn from history -- this sort of hopeful drug necromancy is all too prevalent. 
Some cast-off drugs succeed. Most fail. The appeal of trying to polish such rejects up and try them again is clear; abandoned drugs come cheap and can often be pushed rapidly into trials. But drugs are usually discarded for good reasons. When companies sift through the wreckage of failed studies and claim to have found gold, it's a red flag.  So-called post-hoc subgroup analysis is a fundamentally unsound way to approach drug development.
The process generally involves generating a new hypothesis that fits the data from a failed trial. That is a recipe for confirmation bias, not scientific success. It's possible to justify anything you want if you abuse a dataset sufficiently. 
And this kind of analysis often zeroes in on faint signals the original trial wasn't designed to detect from a small subset of patients. That makes drawing any kind of firm conclusion difficult. Running  late-stage clinical trials that may cost $100 million on the back of a post-hoc analysis -- as Alzheon reportedly hopes to do -- is a very lengthy leap of faith. The company has modified the drug and hopes that will help generate a good result, but there's isn't firm proof it will do any such thing. 
These issues are compounded for Alzheimer's drugs, as the well-forecast Axovant disaster demonstrated.
It has proven extremely difficult to create a treatment for Alzheimer's. Alzheon's drug relies on the belief that interfering with the build-up of amyloid plaques in the brain could help patients. But prominent drugs from Eli Lilly & Co. and Merck & Co. based on that hypothesis have recently failed, as have many others. 
The potential commercial rewards for Alzheimer's success are enormous. But the odds such success will come from testing a previously failed drug in a retroactively selected subgroup are very small. 
This is a particularly glaring example of a broader affliction in biopharma. Re-treads and post-hoc analysis are problems even at much bigger companies -- Eli Lilly's most recent Alzheimer's failure was a post-hoc special, and Allergan Inc. has recently pressed into several final-stage trials despite Phase 2 failures. 
Firms are loath to admit they've failed or made bad investment decisions, or at least believe they can scavenge some kind of return. Sometimes they just want a quick payday without starting from scratch.
It's often bad science, and a great way to pull more good money after bad. 
To contact the editor responsible for this story:
Mark Gongloff at mgongloff1@bloomberg.net
Before it's here, it's on the Bloomberg Terminal.
LEARN MORE