Fear of debt
SoftBank's Venezuela-Sized Debt Triggers Angst
There's a whiff of anxiety in the market as Masayoshi Son keeps borrowing.
By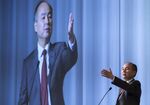 Have you looked at SoftBank Group Corp.'s offshore bonds lately? Asian investors, who bought enthusiastically into Masayoshi Son's dollar securities in 2017, are now starting to realize the tech visionary can never have enough debt -- even after his flagship company borrowed as much as Venezuela.
In order to list his domestic telecom business, Son is prepared to throw last year's Asian investors (including private banks) under a bus. The highly profitable unit has been using its own cash flows to guarantee about $4.7 billion of notes issued in 2015, but the Tokyo Stock Exchange won't let it go public unless it can prove independence.
On March 7, SoftBank offered nice sweeteners to older bondholders at the expense of newcomers. For example, the 6 percent dollar note sold in 2015 had its due date extended by three years to 2028. This time there was no guarantee -- but there was a whopping exchange price of 107.5 percent and a $10 consent fee for every $1,000 of principal. That made 2017 investors, who accepted a 5.125 percent coupon for 2027 notes, look a bit silly.
And there's talk of still more debt. As of Dec. 31, SoftBank's net interest-bearing debt-to-Ebitda ratio was still at a "healthy" 2.8 times, Son said on a call to discuss the December quarter, and all he promised was to "keep it under 3.5 times." In other words, SoftBank's balance sheet can bear another 840 billion yen ($7.9 billion) of debt.
The company had total liabilities of $130 billion at the end of December. Apart from the $37 billion on Sprint's books, SoftBank had $46 billion in bonds and owed another $37 billion in other forms, such as bank loans. That puts it in the same league as Venezuela, which owes somewhere between $100 billion and $150 billion.
On March 9, bond investors got another jolt when Reuters reported that SoftBank is seeking to raise a $5 billion dividend recapitalization loan through its U.K. chip company ARM Holdings Plc. The dollar bonds tumbled further. 
Some investors now fret about what SoftBank aims to do with that $5 billion. Will Son rekindle his ambition for Charter Communications Inc.? SoftBank has secretly bought a stake of almost 5 percent in the cable company, the Times reported in London this week.
While there may be good business reasons to go after Charter, the cable provider is a whale. John Malone's Liberty Broadband Corp. is unlikely to sell for less than a 50 percent premium, implying a target with a market value of $143 billion, Pelham Smithers Associates mused on the SmartKarma site. That would certainly mean more debt.
Last year, when SoftBank sold $7.9 billion of dollar bonds in Singapore, many of the buyers were high-net-worth Asian investors who revere Son and were willing to overlook onerous clauses and meager coupons. He'd better not annoy that crowd, because he's already tapped out on loan markets at home. 
To contact the editor responsible for this story:
Paul Sillitoe at psillitoe@bloomberg.net
Before it's here, it's on the Bloomberg Terminal.
LEARN MORE