Latvia Battle
Europe's Struggle to Shut a Bank
It shouldn't be this hard for regulators, really.
By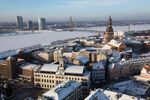 The dysfunctional tale of Latvia's ABLV Bank AS and its subsidiary in Luxembourg resembles a geopolitical game of hot potato.
First, the lender was accused of large-scale money laundering by the U.S.; then declared on the brink of failure by the European Central Bank; then tossed into the hands of national authorities for summary liquidation. Except Luxembourg isn't playing ball.
It appears that the ECB, as bank regulator, and the Luxembourg authorities, as liquidator, have a pretty fundamental and unprecedented disagreement on the financial health of ABLV's local unit. The ECB said on Feb. 24 that the unit was "failing or likely to fail," like its Latvian parent. But judges at Luxembourg's commercial tribunal last week took the view that liquidation was "unfounded," according to Bloomberg News. The court put two administrators in charge and gave the bank a six-month period of payments suspension. It now has time to find investors or a buyer -- a relief for creditors.
It's an unexpected development for a bank mauled by not one but two powerful regulatory bodies. And it's a warning of more confusion to come in Europe's quest to deal with failing banks in an orderly way. Technocrats have been given new powers and resources to offer regulatory certainty for investors and more protection for taxpayers after the past decade's bailouts of sovereigns and banks. But such decisions won't go unchallenged.
Last year's restructuring and sale of Spain's Banco Popular Espanol SpA did a good job of protecting depositors, but triggered a wave of lawsuits from investors over losses they were forced to take. ABLV is a somewhat different story, given its small size and issues relating to conduct, rather than capital; EU authorities decided it should be allowed to fail, which makes sense. But if a local court in charge of an ECB-led liquidation says this liquidation is unwarranted, it doesn't bode well for the future.
It's not clear what possible fixes to this kind of situation there are, given that, as Linklaters partner Patrick Geortay explains, it is currently national law that decides the details of how to wind up or liquidate a bank. Closing off this possibility by handing more power to faraway technocrats seems unlikely, and politically unpalatable.
There's a lot we don't know about the ABLV case. Setting aside the question of which side is right, regulators appear to have behaved clumsily, even if they had the best of intentions. U.S. regulator FinCEN invoked the Patriot Act when it first blew the whistle on ABLV, and said the need to protect its own shores strongly outweighed any potential impact on the bank's "legitimate" activities.
The result was an outflow of deposits so severe that the ECB said both ABLV and its Luxembourg unit would be unable to pay their debts. And now the regulatory justification for liquidation has been described as "pure speculation" in a court of law.
All we're left with is a pile of competing narratives. At a time when criminals are spoiled for choice on how to launder money, and Latvian banks are still being accused of illicit practices, we could do with a better process.
To contact the editor responsible for this story:
Edward Evans at eevans3@bloomberg.net
Before it's here, it's on the Bloomberg Terminal.
LEARN MORE