So Long
Brexit's Dialog of the Deaf Isn't Fooling London Bankers
Financial firms aren't waiting around for the final outcome of the Brexit negotiations.
By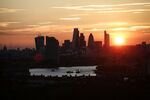 We are about a year away from the U.K.'s formal exit from the European Union, its biggest trading partner, and we are none the wiser as to how it will work in practice.
Every day that goes by without a politically acceptable solution -- one that both sides can sell to their respective constituents -- leaves companies and banks with little choice but to shift jobs and investment in order to limit their losses.
Even if you believe this is just an epic bout of bluff-calling, the stakes are uncomfortably high, from a hard Irish border to a diminished City of London. The idea that CEOs will do nothing until B-Day looks increasingly far-fetched.
Speeches from European Council President Donald Tusk and U.K. Chancellor Philip Hammond on Wednesday are likely to show how little has changed since a much-ballyhooed breakthrough in talks back in December, which shifted the discussion from Britain's budget contributions to the terms of a future trade agreement.
The U.K. thinks it deserves tailor-made, advantageous access to the EU's markets -- even as a non-member -- because London is the bloc's financial center anyway. Brussels, rightly, describes this as an attempt to cherry-pick from the rule book that threatens the integrity of the single market. The dialogue of the deaf goes on, with compromise ideas such as "managed divergence" and "dynamic equivalence" now occupying lawyers and technocrats' time -- with scant progress.
Meanwhile, CEOs are quietly, but regularly, reiterating that they can't sit still and hope for a last-minute agreement. Barclays Plc said last month it will expand Barclays Bank Ireland in the next 12 months so it can work with its European clients. HSBC Holdings Plc has told investors it's planning for the worst, and can only update its plans when "negotiation positions and timelines become clearer." Jupiter Asset Management Plc is preparing to add staff in Luxembourg. Securities-settlement firm Euroclear is moving its domicile and tax residency to Brussels from Britain later this year.
This is far from the Biblical exodus threatened by some over-dramatic consultancies, but these are real jobs being moved, months before any kind of transitional arrangement hovers into view.
Expect that trickle of announcements to increase as the Brexit clock keeps ticking. Few executives and investors seem to like the idea of sticking around to see whether a "no-deal" scenario could be as good as the hard-line Brexiteers say it is. Capital is mobile, and can make its own decisions, even if politicians can't.
To contact the editor responsible for this story:
Edward Evans at eevans3@bloomberg.net
Before it's here, it's on the Bloomberg Terminal.
LEARN MORE