Smurfit Takeover
Serial Acquirer Gets a Taste of its Own Medicine
Smurfit Kappa has at least one way to repel International Paper.
By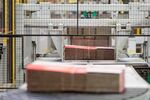 A serial acquirer is getting a taste of its own medicine.
Since 1934, Smurfit Kappa Group Plc has grown through acquisition to become Europe's biggest paper and packaging company. Now it faces unwanted takeover interest from International Paper Co. of the U.S. The Irish company's best defense is that the deal may be too much of a stretch for its suitor.
Smurfit's attractions as a target are obvious. E-commerce and an aversion to plastic are driving demand for cardboard packaging. Scale is an advantage in this industry. A deal would extend International Paper's reach in Europe, which accounts for only 14 percent of its revenue today. What's more, Smurfit had been trading at a discount to its paper and packaging peers, based on its enterprise value to Ebitda ratio.
A deal would still be a mouthful.
The exact terms of International Paper's proposal haven't been made public -- other than shareholders would get cash and plus a minority stake in the combined business.
Smurfit says the price on offer is a lower valuation multiple than in recent transactions. That implies it's less than the roughly 12 times Ebitda WestRock Co. said it would pay for KapStone Paper and Packaging Corp. in January.
An offer at a standard 30 percent premium to the undisturbed stock price would cost 8.8 billion euros ($10.9 billion) for the equity, or 37 euros a share. Add assumed net debt, and that would be 10 times trailing Ebitda.
Assume the offer is half in cash and half in stock, and Smurfit's investors get a 20 percent stake in the enlarged company worth about 4.4 billion euros in Monday's stock prices. That would keep the combined business's leverage at less than four times Ebitda.
For International Paper's shareholders, the return on invested capital from such an offer would be in the high single digits within three years, before including any synergy benefits. That's decent enough.
But Smurfit shareholders would rightly balk at selling out at a multiple that looks low relative to recent history. The share element could be a problem, too, as the enlarged company would be a very different animal, with substantially higher leverage. Over the last five years, Smurfit shares have returned 173 percent, including dividends, while International Paper has managed only 54 percent -- not a good advert for switching horses.
It's possible that International Paper can resolve this. But it may need to offer a larger-than-usual premium. That will mean putting a lot of its own stock into the mix -- and making a convincing story for holding it.
To contact the editor responsible for this story:
Edward Evans at eevans3@bloomberg.net
Before it's here, it's on the Bloomberg Terminal.
LEARN MORE