Step to the Right
Italy's Election Flashes a Warning to Euro Bulls
The rise of populism will act as a brake on closer integration.
By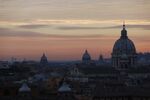 Italian voters have taken a step to the right, with the anti-euro Five Star Movement and the anti-migrant League parties capturing a surprising amount of support at the weekend elections. The result should give pause to those who remain committed to the broader mission of forging closer ties among a coalition of the willing in Europe -- and to anyone betting on closer integration as a reason to buy the euro.  
For Italian securities, it's business as usual: Years of creaking coalition governments have vaccinated local markets against reacting too much to uncertain election outcomes.
The yield on Italy's 10-year government bond is up by fewer than 3 basis points. The FTSE MIB 30 index is down about 1 percent after paring half of its initial losses on Monday morning.
Traders and investors in Italian stocks and bonds are probably right to remain largely nonplussed by the shambolic outcome.
For the fixed-income crowd, the European Central Bank is still acting as a buyer of first resort of the region's government bonds, at least until September. For equity holders, Italy's domestic political travails look like a sideshow compared with the bigger issue of a looming trade war between the U.S. and everyone it buys and sells with.
For the euro, though, the rise of populism in Italy threatens to undermine enthusiasm for the common currency, which turned positive in May 2017 when Emmanuel Macron was elected President of France promising to inject new life into the European project.
The European project had been bruised by the near-departure of Greece from the common currency project in recent years, and battered by the U.K.'s vote to leave the European Union (albeit the latter decision is likely to diminish Britain's economy more than it hurts the rest of the bloc).
Since Macron's ascendancy, the threat of Catalonia splitting Spain apart has diminished, while Greece's rehabilitation as a functioning member of the euro has been largely accomplished. On the wider European political stage, the weekend vote confirming Angela Merkel's fourth term as chancellor of Germany is another plus for Europe's integrationists.
Whatever flavor of government emerges in Italy is unlikely to pose an existential threat to the common currency. But the likelihood of progress on Europe-wide projects such as the much-needed capital markets union, the overhaul of agricultural policy or the thorny issue of managing migration inflows to the bloc is lower than it was. Italy's newfound enthusiasm for populist parties must surely be a worry for euro bulls.
To contact the editor responsible for this story:
Edward Evans at eevans3@bloomberg.net
Before it's here, it's on the Bloomberg Terminal.
LEARN MORE