Ad Breakdown
WPP's Communications Failure
Ad agency's message to investors has been, and still looks, muddled.
By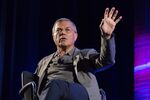 WPP PLC
+2.00
As of 5:11 AM EDT
PUBLICIS GROUPE
+0.44
As of 5:11 AM EDT
For a company that helps others to communicate their message, WPP Plc has been remarkably bad at doing that for itself when faced with a profound shift in the advertising industry.
Shares of the world's biggest advertising agency slumped as much as 15 percent on Thursday -- the most in 19 years -- after CEO Martin Sorrell drastically cut his long-term growth targets.
That the ad industry is facing difficulties was no secret. But WPP has, for much of the past 18 months, been adamant that the troubles were cyclical and therefore temporary, with macroeconomic trends squeezing spending. The cut to its annual growth guidance was tacit admission that those headwinds are more structural and therefore permanent.
Marketing is shifting away from the classic model of bombarding the media with ads and toward digital tools, like apps, which can better trace the correlation between spending and lead generation.
That has created an opportunity for new entrants with deeper digital expertise. Beyond the dominance that Facebook Inc. and Alphabet Inc.'s Google hold in online ads, consultants such as Accenture Plc, IBM Corp. and PricewaterhouseCoopers LLP are pushing into the space with vigor.
WPP's failure is two-fold. A failure to recognize the pace of the shift means Sorrell has been slow to react. And to the extent that he has formulated a response, he has been poor at communicating it.
Take Publicis Groupe SA. Way back in 2015, the French competitor set out a new strategy it dubbed "Power of One". I usually bridle at corporate restructuring slogans, but Publicis laid out a coherent vision which fundamentally changed how it operated.
Both Publicis and WPP have for much of their existence been little more than holding companies, overseeing dozens of largely independent businesses, each with their own management and operational structures. Since Bloomberg started collecting data in the early 1990s, WPP has completed almost 600 acquisitions, and Publicis a more modest 200.
Publicis reorganized those businesses around four hubs straddling health, communications, digital and media, with the intention of streamlining administrative functions and improving portfolio companies' ability to collaborate and bundle product offerings. In December, it said it will combine offices in six major U.S. cities to facilitate more savings.
As a consequence, Publicis has spent more than twice as much on restructuring as a proportion of revenue than WPP -- and seen its profitability overtake its British rival.
At a presentation on Thursday, Sorrell continued to insist that many of the cost pressures were short term. But he does seem to have recognized that, in response to clients' cost-cutting, WPP must do the same. I say seem, because his comments focused on revenue synergies, with only passing allusions to cost cuts.
He needs to prove to investors that he still has a strategic vision for the unwieldy beast he has spent 30 years building -- and start selling it fast. If he can't, shareholders may well ask whether a new pair of eyes is needed at the top.
To contact the editor responsible for this story:
Edward Evans at eevans3@bloomberg.net
Before it's here, it's on the Bloomberg Terminal.
LEARN MORE