Pay Pressure
These Two Central Bankers Are Getting It Wrong on Pay
Thoughts on salaries have turned hawks into doves -- and vice versa.
By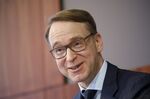 The European Central Bank and the Bank of England could be heading for a policy mistake, and the culprit is pay. Or rather, what each makes of it. 
To say that inflation in the European Union is sluggish is an understatement -- the 1.2 percent outturn last month is hardly inspiring, as are the bank's latest projections. So perhaps this explains why the ECB is so relaxed about wage settlements in Germany, the bloc's most-productive country.
The IG Metall labor union, which represents 3.9 million workers, reached a deal this month in Baden-Wuerttemberg for a 4.3 percent pay rise -- more than twice the ECB's inflation target. In a report this week, UniCredit analysts predict German wage growth will reach 4 percent both this year and next. They cite, among other factors, a strong rise in capacity utilization and high workforce participation rates coming alongside the country's record labor shortage.
And yet, when Bundesbank chief Jens Weidmann made several public appearances on Tuesday, he mentioned these developments only in passing, and seemed content to set them aside. The ECB's most prominent hawk said he does not expect a rate hike discussion to begin until 2019, and sees quantitative easing continuing perhaps until the end of 2018.
This was, for him, a consensual approach -- all the more remarkable given that he's the head of an institution that is normally the bastion of inflationary restraint.
Capacity is tight, and the global growth outlook is good. If Weidmann is stepping away from the fight to end QE when the current program expires in September -- perhaps he has bigger fish to fry -- then the central bank will have lost an important rudder for policy. That augers poorly for discipline in undoing emergency stimulus, and could store up a heap of trouble for the future. 
The Bank of England is making the same mistake, in a different direction. 
Deputy Governor Dave Ramsden was one of the two doves who didn't vote for the BOE's November rate hike -- but in a recent Sunday Times interview he said rates may need to rise sooner than he'd thought. What is surprising is his newfound expectation for wage growth to reach 3 percent in the early part of this year. That would be the fastest pace for three years, and around levels not seen since the financial crisis. 
It is a mystery how or why it is reasonable to expect such fantastic pay pressure to get entrenched in the economy. While it fits with the bank's broader expectation for a smooth Brexit, and perhaps pays heed to the improved global picture, that accelerating wage growth will stoke above-target inflation can be no more than a hope. Britain is undergoing a seismic economic and political shift, which to say the least isn't going well so far. 
Ramsden's conversion cements the BOE's determination to start a rate-hiking cycle in earnest -- pushing rate expectations higher and the pound along with it. The bank looks to be taking unnecessary risks with a slowing economy about to undergo major surgery, and its head of markets is helping it along instead of standing firm against his boss's push for tighter policy.
U.K. investors have already priced in a rate increase as soon as May, and it's got so enthusiastic that some are kicking around the March 22 meeting as a possibility. A loss of a dissenting voice at the central bank only fuels the herd mentality. 
In Europe, officials will have to make a decision before September on whether to extend QE to the end of the year -- though it would be good of them to give an update on guidance at next week's meeting. There's a vast assumption in markets that the ECB's inflation projections will pretty much hold up throughout. That looks vulnerable to a nasty shock. 
To contact the editor responsible for this story:
Jennifer Ryan at jryan13@bloomberg.net
Before it's here, it's on the Bloomberg Terminal.
LEARN MORE