Game Time?
Why Billionaire Dolan Might Ease His Grip on the Garden
Folks are wondering what buyout firm Silver Lake is doing in a situation where the Dolan family has control. Here's a theory.
By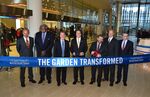 After almost 25 years in control of New York's Madison Square Garden, the Dolan family may have a good reason to ease its grip.
Buyout firm Silver Lake recently revealed a 6.3 percent stake in Madison Square Garden Co. -- owner of the eponymous landmark venue as well as other theaters, restaurants and the Knicks and Rangers professional sports teams -- and said it wants to support the company and its "efforts to create long-term value." It's an unusual tactic for the investor, especially considering that private equity firms are rarely successful in converting equity stakes into takeovers. It's also curious because it's pretty much impossible for Silver Lake, or any firm for that matter, to take an activist stance and force a transaction, given that the Dolans have a controlling interest of 71.3 percent in the company's outstanding common stock. 
But Silver Lake has one notable investment -- mixed martial arts organization UFC -- and deep enough pockets to persuade the Dolan family to take its presence seriously.
The firm was part of a consortium that helped finance WME-IMG's $4 billion acquisition of UFC back in the summer of 2016, after the sport had been legalized in New York. (WME-IMG has since been renamed Endeavor.) Just months after that deal closed, UFC's first New York City event -- at Madison Square Garden -- set a spectator and box-office record for the arena, selling more than $17.7 million in tickets and garnering even more revenue from pay-per-view orders.
While UFC's return to the Garden last November wasn't as lucrative, the $6.2 million in ticket sales reportedly still earned it bragging rights as the third-best haul in the venue's history. 1  Professional Bull Riders, which also counts Silver Lake-backed-Endeavor as its owner, also stages events at MSG. 
With the Garden's parent company planning new venues for Las Vegas and London, both UFC and Professional Bull Riders would be valuable arena seat-fillers. Together, those locations may cost roughly $2 billion to develop, according to BTIG analyst Brandon Ross. That's more than the $1.1 billion in cash that Madison Square Garden has on hand. 
To fund the shortfall, Madison Square Garden will need more than big audience draws, though. One option is to saddle the company with debt, another is to sell all or part of the sports arm -- but perhaps a third, and more attractive, possibility could now be in play with Silver Lake's involvement: striking some sort of transaction with the private equity firm that involves Endeavor.
Endeavor, like Silver Lake, has access to financing firepower. Bloomberg News has reported Saudi Arabia's sovereign wealth fund was in talks to buy a stake in the company, which was valued at $6.3 billion last summer when it raised roughly $1 billion from the Canada Pension Plan Investment Board and GIC. 
Other shareholders are optimistic that change could be afoot: The stock has gained about 5 percent since Friday's disclosure, even though the Dolan family can decline any advances that may come from Silver Lake and the entertainment powerhouse that it backs. Still, the firm's presence on MSG's register -- currently worth almost $300 million -- should at least facilitate a meeting with chairman and CEO James Dolan, and from there, everyone has a price. There's no guarantee Silver Lake's toehold stake will translate to anything more but if it does, it'll be proof that there's value in putting money where your mouth is. 
The November 2017 fight didn't involve the league's biggest stars, and UFC Chief Operating Officer Lawrence Epstein had previously told Bloomberg News that the 2016 lineup that featured Conor McGregor was the biggest event the company would ever do, so that record is unlikely to be broken anytime soon. 
To contact the editor responsible for this story:
Beth Williams at bewilliams@bloomberg.net
Before it's here, it's on the Bloomberg Terminal.
LEARN MORE