Sounds Good
Spotify's More Bob Dylan, Less Beyonce for Tencent
Don't expect a sudden chart topper to come from this stock debut.
By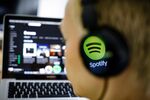 A listing of Spotify Technology SA shares might not be the smash for Tencent Holdings Ltd. you'd think.
Like singer, songwriter and Nobel Prize winner Bob Dylan -- who never had a No. 1 hit -- Spotify may end up being a slow winner for the Chinese internet giant rather than a Beyonce-level chart topper.
Spotify's non-IPO filing shows Tencent owns 7.5 percent of the music-streaming service via its Tencent Music Entertainment Group. The 13.4 million shares would be worth as much as $1.77 billion if you took the highest price at which equity has traded in private transactions.
That's not bad, except that at this top-end price of $132.50, it's a mere 5.5 percent higher than the amount Tencent paid to acquire 8.6 million newly issued shares back in December. 1 Complicating the valuation, however, is the fact that the rest of Tencent's stake came from purchasing shares from an existing holder.
Technically, those 4.8 million other shares came from a two-step transaction: The original investor redeemed convertible notes for stock, then sold it to Tencent. The conversion price was around $62.71 per share, according to Bloomberg Gadfly calculations, but that doesn't mean Tencent bought at this value. The earlier shareholder may have sold them at a premium.
Assuming no markup, then Tencent actually paid $1.38 billion for its stake, or around $103 a share. So a pricing at the top end of the recent transaction history and zero markup would give Tencent a paper profit of around 28 percent.
There are two caveats to that, though.
First, there were only 2.7 million Spotify shares traded in private transactions during the period (this year through Feb. 22) at which that upper-end price was struck. Tencent owns almost five times that amount. Of course, having the shares trade publicly has the potential to add much-needed liquidity, possibly boosting the price. Or not. There's no lockup period, meaning existing shareholders are free to dump stock immediately if they wish.
Which brings us to the second caveat. Tencent is the only shareholder that's locked in. Even founders Daniel Ek and Martin Lorentzon can sell their ordinary shares -- equivalent to 38.9 percent of those outstanding -- from day one. Tencent must wait until Dec. 15, 2020.
We know Tencent didn't get into Spotify for short-term share price gains, rather for long-term strategic goals.
In fact, the larger chunk of the investment -- 8.6 million shares -- wasn't done via cash but a share swap. Spotify received a 9 percent stake in Tencent Music Entertainment as part of that Dec. 15 transaction. In its filing, Spotify valued this share-swap deal at 910 million euros, worth $1.07 billion at that day's exchange rate.
This reveals another important metric. The share-swap transaction values Tencent Music Entertainment at $12.3 billion, 20 percent more than the $10 billion figure being talked about at the end of last year.
When Spotify does start to trade in New York, Tencent will be the only investor unable to cash out should there be some Beyonce-esque excitement. Although if Spotify starts to churn out profitable ballads over coming years, that may suit it just fine.
To contact the editor responsible for this story:
Katrina Nicholas at knicholas2@bloomberg.net
Before it's here, it's on the Bloomberg Terminal.
LEARN MORE