The Next Gucci Gold?
Burberry's New Man Can Deliver It Bags. What About Plaid?
Tisci isn't a natural savior for the tailored trenchcoat.
By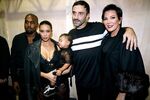 Not so fashionably late, Burberry Plc has named former Givenchy designer Riccardo Tisci as its new creative director.
That the brand has been able to appoint a successor to long-standing design head Christopher Bailey relatively quickly is welcome.
As Tisci wasn't currently employed by a rival he will be able to start on March 12, and can reveal his first collection for the brand in September. That's a pretty seamless transition from one creative chief to another, and avoids a hiatus that would have been unhelpful.
Burberry risked floundering if the search had dragged on for much longer -- Bailey's departure was announced in October. The British luxury brand had lost its way over the past few years, though Bailey had started a rehabilitation with his last two collections, bringing back the house's signature check and giving it a millennial makeover.
Tisci, who spent more than a decade at LVMH's Givenchy, should be able to build on this progress and breathe new life into Burberry. He transformed the French couture house into a contemporary luxury brand, where he mixed street wear with high end fashion, and developed a strong celebrity following. Athletic wear was much in evidence at Bailey's final show in February, and will be a focus for Chief Executive Officer Marco Gobbetti.
Tisci also oversaw the introduction of a number of successful "it bags" at Givenchy, another area that Gobbetti wants to develop, and where Burberry has lagged rivals.
What's more, Gobbetti hired Tisci at Givenchy, and they worked successfully together at the brand. That's crucial, because a fashion house's success is not just about the designer. The chemistry between the CEO and creative director matters, too.
The danger is that this appointment falls between two stools. Tisci isn't quite the match made in heaven that Pheobe Philo would have been. The former Celine designer's minimal aesthetic would have blended perfectly with Gobbetti's plan to take Burberry upmarket. 
But neither is the appointment as revolutionary as if Burberry had opted for a truly wildcard choice, such as Gosha Rubchinskiy, whose menswear designs incorporating the Burberry check put the company back on the fashion map last year.
Investors are desperately seeking the next brand to emulate the remarkable recovery at Gucci, owned by Kering SA, and shares in Burberry rose more than 6 percent on the appointment.
They should not be blind to the risks. Fashion is notoriously fickle, and it's not yet clear that Tisci's designs, beloved of the Kardashians, will fit with Burberry's heritage, built on the tailored trenchcoat.
Still, with the next London Fashion Week fast approaching, we won't have long to find out.
To contact the editor responsible for this story:
Jennifer Ryan at jryan13@bloomberg.net
Before it's here, it's on the Bloomberg Terminal.
LEARN MORE