Sky Bid
Will Comcast Outfox Murdoch?
Buying control of Sky wouldn't require the media tycoon's co-operation.
By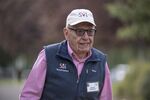 COMCAST CORP-CLASS A
-0.53
At Closing, March 19th
SKY PLC
+0.50
At Closing, March 19th
Comcast Corp. Chief Executive Officer Brian Roberts may just have found a way of outfoxing Rupert Murdoch, Walt Disney Co. and archrival AT&T Inc.
His $31 billion proposal to acquire British pay-TV giant Sky Plc would break his company's dependence on the U.S. while avoiding some of the delicate antitrust negotiations his rivals have had to confront. It also offers him a huge new platform through which to pump TV shows and films.
Since Walt Disney Co. agreed to buy the lion's share of 21st Century Fox Inc. in December, Comcast had been eyeing Fox's international assets. The expectation was that it would seek to acquire some of the businesses owned by Murdoch-controlled Fox, including its 39 percent stake in Sky.
Instead, the Philadelphia-based company made a direct approach to all Sky shareholders on Tuesday. That's likely to set in motion an auction for the British broadcaster, as my Gadfly colleague Chris Hughes noted earlier today. Crucially, Comcast's mooted bid is structured in a way that it doesn't matter if Fox wants to hold on to its stake. Roberts can be flexible.
Following its acquisition of NBCUniversal in 2013, Comcast has had a far better content offering than U.S. rival AT&T. But the latter's 2016 deal to buy Time Warner Inc. changed that, and the Dallas-based company already has more U.S. subscribers.
The flurry of consolidation -- AT&T also bought pay-TV provider DirecTV in 2015 -- means there's little room for Comcast to seek major deals to grow at home. Its rival's purchase of Time Warner is already facing steep regulatory scrutiny. Meanwhile Fox's Sky takeover has encountered stiff opposition from British lawmakers.
The untrammeled international reach of Netflix Inc. and Amazon.com Inc.'s Prime Video means that the tech companies can invest significant sums in new shows and films, knowing that they can be painlessly distributed online to scores of countries, thereby attracting new subscribers globally to secure a return on the investment.
That poses a major threat to the classic pay-TV market, which is in contrast highly fragmented, with handfuls of national players dominating each market. Studios have to negotiate separate distribution deals, making major investments in new series a riskier prospect. It's a vicious circle: having fewer subscribers makes it harder to gamble on new shows, and fewer blockbuster shows makes it harder to acquire new subscribers.
Sky is one of the few with an international presence, straddling the U.K., Italy and Germany. A takeover would more than double Comcast's base of 22 million TV customers and secure immediate access to a European distribution network. That would make it easier to justify throwing big dollops of cash at the next House of Cards or Game of Thrones.
A deal would bring technological benefits, too. Both Sky and Comcast have been faster than competitors to adopt Netflix-like user interfaces which make it easier to surface content -- but the U.S. buyer says it can learn something from Sky's products.
Should the proposal prove unsuccessful, it might still be possible to push European consolidation in a piecemeal fashion by trying to pick off individual pay-TV providers across the continent. But that would be a far more complex and laborious proposition -- and Sky, being the biggest English-language player, would therefore be the most natural home for American shows.
Prepare to binge-watch a long and high-stakes battle.
To contact the editor responsible for this story:
Edward Evans at eevans3@bloomberg.net
Before it's here, it's on the Bloomberg Terminal.
LEARN MORE