Investor Stand-Off
Tesco's Cut-Price Deal Could Leave it in a Value Pickle
It has more to lose if its bid for Booker falls through.
By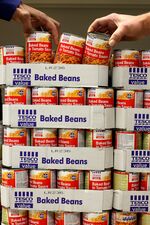 On the eve of the shareholder vote on Tesco Plc's near 4 billion pound ($5.6 billion) takeover of Booker Plc, a stand-off has developed between investors in both companies.
Artisan Partners, one of the biggest shareholders in Tesco, on Monday published a letter it wrote to the supermarket's board last week to urge it not to increase its offer for the wholesaler. Instead, it argued, Britain's largest grocer should walk away if the deal does not receive the required approval from the target's shareholders.
About two weeks ago, U.S. hedge fund and Booker shareholder Sandell Asset Management Corp pressed Tesco to up its bid.
Whatever the merits of each side's case -- and Gadfly has argued that Tesco could easily afford to raise its offer -- the supermarket has more to lose than the wholesaler.
The threshold for Booker shareholders to approve the deal is high -- 75 percent of the shares cast. The hurdle rate at Tesco is 50 percent.
If Tesco does walk away, Booker would pretty much carry on as before. The shares would likely fall, but its stand-alone value is robust, and it is clearly now in play. The wholesaler has been growing strongly and throwing off cash. There is no reason why that shouldn't continue.
Tesco would also continue with its turnaround plan, which includes a target of lifting the group operating margin from 2.7 percent in the first half of the 2018 financial year to 3.5-4 percent by 2019-2020. That already looked a tall order, given the need to continue to invest in low prices.
If the takeover unravels, Tesco won't be able to count on any extra momentum from Booker's capable Chief Executive Officer Charles Wilson becoming head of its U.K. business. Nor would Tesco, and its chief executive Dave Lewis, have access to the opportunity to move into the food services business. Of course, there would be nothing to stop Tesco and Booker cooperating -- it has already started to put Booker outlets in some big stores -- but it wouldn't gain the extra buying scale it needs. That would be a useful weapon in its armory to fight off the continued threat from the German no-frills supermarkets.
It is notable that Artisan hasn't branded the deal a distraction this time around. That was one of the criticisms when it and Schroders objected to the combination last year.
In the end, the Booker vote will come down to whether shareholders back the vision and talent of Wilson, who has taken the wholesaler from a heavily indebted company to a cash-rich and expanding one. He clearly believes in this deal as a way to create the leading food retail and services business in the U.K. and see off the pressure from Amazon moving into grocery. In fact, he has been prepared to convert his 6 percent shareholding in Booker to about 1 percent of Tesco.
Time is running out for Tesco to raise. The current Booker share price isn't substantially higher than the offer price, which implies investors are skeptical of an 11th hour revision.
Tesco must be pretty confident that Wilson's backing is enough to get this deal to completion. If it turns out to be wrong, then it will be in a Tesco Value pickle.
To contact the editor responsible for this story:
Jennifer Ryan at jryan13@bloomberg.net
Before it's here, it's on the Bloomberg Terminal.
LEARN MORE