Improvident Provident
Business As Usual in Subprime
Provident Financial's investors seem happy with more of the same.
By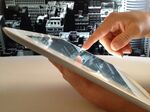 PROVIDENT FINANCIAL PLC
+7.00
At Closing, March 23rd
"Serving customers responsibly in the non-standard credit market" is how Provident Financial Plc describes its business of lending to people with bad credit histories.
With annual loan charges that can top 500 percent, it's a business that has divided opinion. Fund manager Neil Woodford has in the past praised the firm's operational track record and long-term prospects. The Church of England, meanwhile, won't touch Provident or its peers.
The threat of regulatory fines for misconduct and a misguided attempt to turn debt collectors into iPad-toting "customer experience managers," helped to wipe 80 percent off the company's market value in the past year.
Now, the company is promising to get back to the good old days of 10 percent returns after posting a loss for 2017. Banks have underwritten a 300 million-pound ($418.8 million) rights offering, all part of a plan backed by top investors including Woodford.
News of the stock sale sent the firm's shares up 70 percent Tuesday, suggesting investors hope that a dollop of cash can draw a line under the string of bad news. But with no apparent change to its business model -- one that has a regulatory probe still hanging over it -- it's not at all clear how, to use Provident's own words, "long-term," "sustainable" and "customer-centric" the business will be.
The amount being raised should cover the near 200 million pounds Provident is paying in fines and compensation linked to a credit-card product, the full cost of which wasn't disclosed to customers. Then there's the likely 20 million-pound cost of a probe into its Moneybarn car-finance unit, as well as the 33 million-pound cost of implementing that aforementioned iPad-driven sales model. And the firm faces an extra buffer for potential losses due to higher regulatory capital requirements.
But nothing seems to have really altered on a fundamental level, and the emphasis appears to be on business as usual -- despite the regulatory and operational risks inherent in this company.
Provident is targeting a group return on assets of 10 percent. To put that into perspective, the firm's average five-year ROA is already about 9 percent, and its return on equity about 35 percent in the period, according to Bloomberg data.
Provident's advantage is that it knows it has a product that its target market of "non-standard" borrowers wants. Annual growth in customer receivables at some of its business units are at double, sometimes triple-digit, rates. So it could halve that growth and still do well.
But we still don't know whether this business will work exactly as planned with iPads in the hands of staff and regulators and politicians on guard. Provident says it's trying to come up with a solution to get back to selling those credit card products; Moneybarn will also likely be under scrutiny for a while yet. Jeremy Corbyn has been vocal about further regulating consumer finance.
In this environment, there is such a thing as doing too well out of certain sections of society, even for a stock that's fallen a lot. The Church of England job has always been to be holier than thou but, in this case, it may be right.
To contact the editor responsible for this story:
Edward Evans at eevans3@bloomberg.net
Before it's here, it's on the Bloomberg Terminal.
LEARN MORE