Richemont-YNAP
Even This Luxury Spender Has a Limit
There's little pressure on Richemont to increase its bid for YNAP.
By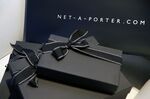 CIE FINANCIERE RICHEMONT-REG
-3.34
At Closing, June 19th
Success in luxury retailing depends on parting customers with unfeasibly large sums of money. Yoox Net-A-Porter Group's shareholders may struggle to do just that to Cie Financiere Richemont SA.
The Swiss luxury giant wants to take control of YNAP in a 2.7 billion-euro ($3.3 billion) buyout. But some, including U.S. value investor Robotti & Co., oppose the deal at the current price.
Richemont's offer is certainly no knock-out -- but isn't too stingy, either. At 38 euros a share, it is 26 percent more than Yoox's share price before news of the talks emerged, and more than the record high of December 2015.
Mainfirst analyst John Guy says the price -- equivalent to about 2.6 times estimated 2017 sales -- is less than the multiples achieved by Matches Fashion, when Apax bought a majority stake last year, and Farfetch, when JD.com took a minority interest. Although Yoox generates bigger profits, both smaller rivals enjoyed faster sales growth in their most recent financial years.
Richemont may look like it has money to burn, with 4.6 billion euros of net cash at the half-year, but it will need to find substantial synergies to earn a decent return on the deal. That's not easy in luxury. There's a risk that Richemont's peers won't want a competitor to be privy to their sales on Yoox's Net-a-Porter platform. That could hurt future revenue.
Yoox shareholders need to weigh their other options. Richemont's 25 percent stake in the company's voting stock is likely to deter a rival bid. If the deal fails, the shares could fall back to their previous levels.
The standalone strategy carries risks. While Yoox operates in the fastest growing part of the luxury market, it faces intense competition. And given the expansion in online sales, all of the big brands -- even laggards like Prada -- are seeking to bolster their web-based businesses.
With more competition comes the need to offer wealthy customers the best service. That means more investment in technology and warehouses. Yoox planned to invest almost 1 billion euros in the five years following its merger with Net-A-Porter in 2015. Meanwhile, targets of lifting both sales and margins by 2020 look ambitious.
But protesting shareholders -- and the Yoox board if it were so inclined -- have some leverage.
Richemont wants to get to 90 percent of the ordinary shares. It could change its mind and go for less, but this threshold has value -- it's where it can de-list the stock. It's a high hurdle to clear, even counting the bidder's existing holding and the 5.7 percent stake Yoox CEO Federico Marchetti has agreed to sell. Renzo Rosso, the founder of Diesel, has 5.6 percent, according to the company. He reportedly supports the deal too.
It might just be easier for cash-rich Richemont to avoid the hassle of a failed takeover by sweetening the deal. At the moment, though, Yoox shares are trading just below the offer price, putting no pressure on the bidder to do this.
If shareholders want to force Richemont to be as extravagant as one of its Cartier jewels, they need to be sure either that a standalone Yoox will be worth more in the foreseeable future, or that the retailer is so valuable that the buyer is prepared to pay up. Both look challenging.
--With assistance from Gadfly's Chris Hughes.
To contact the editor responsible for this story:
Edward Evans at eevans3@bloomberg.net
Before it's here, it's on the Bloomberg Terminal.
LEARN MORE