The Fx Markets Giveth
Retailers Rejoice, the Almighty Dollar's Not So Mighty
A windfall from a weaker greenback is coming through for European retailers.
By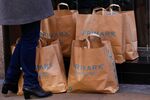 There's a blizzard blowing across London just as the shops are full of floral print skirts and bright yellow dresses.
While conditions might not be ideal on the high street, when it comes to retailers' supply chains, things are improving.
Associated British Foods Plc said on Monday that it expected profit growth at its Primark discount stores to accelerate in the second half of its financial year, thanks in part to the weaker dollar.
British store chains have endured a torrid time over the past 18 months, after the U.K. vote to leave the European Union hammered sterling.
On average, they source about three-quarters of their goods from suppliers in China and south Asia, and pay in dollars. So when the pound weakened against the U.S. currency, their costs went up, squeezing margins.
But that pressure has eased recently, as the dollar has declined against both sterling and the euro -- Primark's sales are roughly split between the two currencies.
There are some caveats to the brighter outlook.
Firstly, currency fluctuations aren't the only story. Commodity prices, including oil and cotton, also contribute to retailers' costs. There has been some escalation here, but it has not been enough to offset the currency impact.
Secondly, retailers hedge their foreign exchange exposure. While this delayed the hit from the slump in sterling, there will also be a time lag in the benefits coming through.
Even so, the stronger pound will be a help, not just to ABF, but to the likes of Marks & Spencer Group Plc, Next Plc and Debenhams Plc in the U.K.
Sweden's Hennes & Mauritz AB also sources about 80 percent of its products in Asia, likely paying in dollars. The retailer is struggling with sluggish sales and bloated stock levels, so any currency related benefit would be welcome.
The picture for Inditex is a bit more mixed. It only sources around 30 percent of its products from Asia, and this strategy protects it from the ravages of a stronger greenback. But it also means that it won't benefit as much as rivals from a weaker dollar. And in fact, the stronger euro dents the value of sales made in the U.S. or China.
The EU referendum fallout hit U.K. general retailers' shares, creating a double whammy of sourcing pressures and a squeeze on consumer spending power from inflation outstripping wage growth.
Both should become less onerous this year. But this won't be enough to completely offset all of the risks facing British retailers. Consumers are still likely to be nervous given the political gyrations over the shape of Brexit and the outlook for faster interest-rate increases.
And with the late blast of arctic weather sweeping the U.K., things could get worse before they get significantly better.
To contact the editor responsible for this story:
Jennifer Ryan at jryan13@bloomberg.net
Before it's here, it's on the Bloomberg Terminal.
LEARN MORE