Dutch Courage
When Making No Money in 12 Years Is a Win
Dutch exit is still one worth waiting for.
By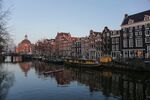 ING GROEP NV
+0.07
As of 4:02 AM EDT
After 12 long years, a private equity firm is set to exit an investment it made before the financial crisis having made no money at all. It's a result worth waiting for.
Back in 2005, J.C. Flowers & Co. paid 1.8 billion euros ($2.2 billion) for Dutch bank NIBC NV. The lender focused on packaging residential mortgage-backed securities and relied on the markets for its funding -- a combination that was to bring many financial firms to their knees a few years later.
A 3.1 billion-euro deal to sell NIBC to Iceland's Kaupthing Bank was struck in August 2007. That would have marked a remarkable exit for Flowers -- but the transaction fell apart as the financial crisis took hold. NIBC has now, at long last, announced plans for an initial public offering.
This long-awaited exit looks likely to be a break-even at best for Flowers. The private equity firm pivoted the bank's business model toward the consumer market, cut NIBC's reliance on wholesale funding and cleaned up the balance sheet.
NIBC made an underlying return on equity of 9 percent last year and targets a sustainable ROE of at least 10 percent. If the bank is therefore close to covering its cost of equity, that would suggest a valuation close to its 1.9 billion-euro book value, or nine times trailing earnings (which were flattered by a disposal in 2017). The IPO would typically need to offer investors a 10 to 20 percent discount to that to lure them to a newly listed stock.
Adjust for an emergency capital injection and dividends paid to the owner, and the internal rate of return is likely to be about zero. That looks poor by private equity standards -- but it dazzles beside other financial investments straddling the crisis. Commerzbank AG's total return over the same period is a negative 87 percent and Dutch peer ING Groep NV's is a negative 62 percent. HSBC is about flat.
True, the deal shows that private equity firms can be long-term investors, although Flowers seems to have been forced into such a position. Given that NIBC's financial performance has only lately started to pick up an earlier exit probably couldn't have been achieved without a more substantial discount to book value.
It's a private equity success story, on a relative view. But on a relative view, private equity fees are a lot higher too.
To contact the editor responsible for this story:
Edward Evans at eevans3@bloomberg.net
Before it's here, it's on the Bloomberg Terminal.
LEARN MORE