Defensive Driving
Everybody Loves Daimler
Li Shufu is at risk of overreaching with this deal.
By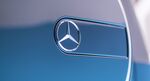 Li Shufu won't take no for an answer.
After being rebuffed last November after approaching Daimler AG seeking a placement of 5 percent of its shares, the Geely Automobile Holdings Ltd. chairman came back last Friday with an offer the Germans couldn't refuse.
His $9 billion on-market purchase of a 9.7 percent stake in the maker of Mercedes and Smart cars is the biggest auto-industry deal since Qatar Investment Authority took 17 percent of Volkswagen AG in 2009. 1  Its significance is far greater -- both to Daimler, as Gadfly's Alex Webb has argued, and to Geely itself.
Why the urgency? One explanation comes in a filing to Hong Kong's stock exchange Sunday. Daimler and state-controlled BAIC Motor Corp. will co-invest $1.9 billion in a new factory for their Beijing Benz venture to manufacture Mercedes-Benz models, including electric vehicles.
That underlines the complex love triangle Geely is trying to buy its way into.
BAIC has been a partner for Mercedes-Benz since the 1990s, while Shenzhen-based BYD Co. has had a separate venture since 2010 to make the luxury Denza brand. 2
Heightening Li's desperation is China's headlong race to electrify its car fleet. 3 BYD has been vying with the Renault-Nissan-Mitsubishi alliance and Tesla Inc. for the title of world's biggest electric carmaker for several years now, only to be overtaken in the December quarter by an almost fourfold increase in output from BAIC.
Daimler's electric vehicle ambitions -- not to mention a research and development budget that's outstripped Toyota Motor Corp.'s to be the largest in the industry after Volkswagen -- make it a potent partner.
That flood of development cash should be particularly helpful to Geely. One reason the listed carmaker has been able to set the market on fire with its Lynk & Co. brand while barely committing any money to capital expenditure or R&D is because Li's closely held Zhejiang Geely Holding Group Co. has done much of the heavy lifting.
Zhejiang Geely controls Geely Automobile and will be the vehicle for the Daimler investment. It also owns Volvo Car AB, Proton Holdings Bhd., ride-hailing app CaoCao and a stake in truck manufacturer Volvo AB.
Lynk & Co. could be developed on the cheap (from Geely's perspective) because it's built on a common platform and has shared development costs with Volvo. If Li can repeat the trick with Daimler -- utilizing Chairman and CEO Dieter Zetsche's bulging development budget to leapfrog his electric-vehicle rivals -- then he's scored quite a coup.
Three players should be worried by this development.
The first is BYD founder Wang Chuanfu. BAIC's alliance with Daimler looks solid, thanks to its state ownership and that new factory investment. But BYD's Denza venture with the Germans has barely shifted more than 10,000 units. Li's stake in Daimler ought to guarantee him a board seat on the Stuttgart-based firm. If he wants to shove BYD aside, he's in a decent position to do so.
The second is Renault-Nissan-Mitsubishi Chairman Carlos Ghosn. That alliance also has a venture with Daimler, and smaller cross-shareholdings mainly focused on some existing models plus petrol and diesel engines. There have been no public moves to extend that relationship into electric vehicles, but Geely's investment could well close off that potent option.
As Li said in announcing the Daimler investment, "in order to succeed and seize the technology highland, one has to have friends, partners and alliances, and adapt a new way of thinking in terms of sharing and united strength." Those lines could be cribbed from Ghosn's playbook --  but this time it's Geely that's seized the highland.
The third is Li himself.
How exactly is the Daimler deal being financed? The 3.25 billion euros ($4 billion) used to acquire the Volvo truck stake in December came from a margin loan secured against Volvo Car shares, Alliance Bernstein analyst Robin Zhu wrote in a note to clients Sunday. The latest transaction was paid for with offshore margin loans as well, Zhu said. 
Zhejiang Geely hasn't exactly been deal-shy in recent months. Quite apart from last year's Proton and Volvo truck transactions, it's taken a majority stake in Saxo Bank and bought a U.S. developer of -- no kidding -- flying cars.
At the median five times Ebitda multiple for automakers with at least $10 billion in annual sales, Volvo Car's equity is probably worth about 143 billion Swedish krona ($17.5 billion) based on its latest results -- which would imply that some three-quarters of Geely's cash cow is now in hock to its banks to pay for its Daimler and Volvo Truck stakes. 4
At a time when the likes of Anbang Insurance Group Co. and HNA Group Co. are unwinding their overblown empires, doing those sorts of deals looks oddly like a return to the bad old days of Chinese outbound M&A. Regardless of how the money was raised, the $9 billion being splashed on Daimler shares would be far better spent on organic growth.
With his turnaround of Volvo Car and the success of Lynk & Co., Li has built a genuine homegrown Chinese success story in Geely. It would be a shame if his vaulting ambitions and the availability of soft finance were to cause him to overreach now.
To contact the editor responsible for this story:
Katrina Nicholas at knicholas2@bloomberg.net
Before it's here, it's on the Bloomberg Terminal.
LEARN MORE