Deal Dilemma
Warren Buffett Sounds a Little Frustrated
What's a dealmaker to do without his deals?
By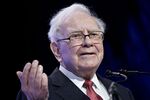 KRAFT HEINZ CO/THE
-0.77
As of 4:00 PM EDT
BERKSHIRE HATHAWAY INC-CL A
+1120.00
As of 4:15 PM EDT
For Warren Buffett, sitting down to write this year's annual letter to Berkshire Hathaway Inc. shareholders -- and his fans the world over -- couldn't have been easy. Following a deal-deficient 2017, it was his shortest missive in more than two decades, and arguably one of the least remarkable.
While Buffett made his usual upbeat assessment of the American economy and the prospects for his conglomerate, the letter's overarching tone appeared to be one of frustration -- that new accounting rules will cause Berkshire investors confusion, that the M&A environment has lost its senses, and that some spectators don't appreciate the long-term perspective Berkshire takes with investments like Kraft Heinz Co., a stock that's performed miserably in recent weeks. (The investment has still been a win for Berkshire, though.)
Berkshire's own shares hit new highs during 2017, but when Buffett reflected on the year, his M&A hiccups obviously stood out to him. The billionaire devoted the top of the letter to discussing acquisitions, specifically the lack of attractively priced candidates and the banker-fee-driven environment that he's lambasted before. The 87-year-old, long celebrated for his astute deal-making, had two major potential transactions collapse in the public eye last year -- first Kraft Heinz-Unilever, and then Berkshire's bid for Texas utility Oncor. That's unusual for Buffett, and the lack of activity has left the conglomerate's cash pile at levels not even he can justify. Cash and U.S. Treasury bills now total $116 billion.
It's been a while since Buffett spent so much time writing about acquisitions or talking of his "elephant gun." He stopped including a list of takeover criteria after 2015, as the market rallied and valuations swelled to beyond what he's comfortable paying. And as I've explained before, Berkshire's not the only buyer in town anymore. It's competing with other deep-pocketed strategic acquirers that are willing to overpay for the growth opportunities they so desperately need and which Berkshire, well, doesn't. Buffett sure would like to put that cash to use, though:
"Berkshire's goal is to substantially increase the earnings of its non-insurance group. For that to happen, we will need to make one or more huge acquisitions. We certainly have the resources to do so."
Fun sidenote: That's one of 11 times Buffett used the word "huge" in this year's letter. Wonder if he picked that up from another celebrity billionaire.
But back to deals. Buffett included a shout-out to the one major transaction that did cross the finish line last year: the purchase of a 38.6 percent stake in Pilot Flying J, a privately held convenience chain geared toward truckers. The terms were never disclosed, but the business generates around $20 billion in sales. 1
That happens to be in the same ballpark as Kraft Heinz, though the packaged-food maker's revenue has been in decline as it, too, struggles to find another megamerger. Kraft Heinz said Friday that Buffett is leaving its board, but that it "looks forward to his continued partnership as chairman of our largest shareholder," allaying any investor apprehension that Buffett's exit might be a preface to Berkshire exiting the stock. 
Showing defensiveness that felt somehow related to Kraft Heinz, Buffett said that he and his business partner Charlie Munger, 94, make stock-market investments "as interests in businesses, not as ticker symbols" to be traded on chart patterns (like the one below), analysts' target prices or -- worse! -- the opinions of media pundits.
But from the day Buffett chose to invest alongside 3G Capital, a private equity shop known for the kind of cost-slashing, synergy-rooted, short-term-oriented takeover strategy that he's defied, he must have known there would be criticism. It's tough to reconcile the situation at Kraft Heinz with Buffett's professed views on deal-making. 
Nevertheless, even if he's committed to the stake, Buffett seems to be distancing himself from Kraft Heinz and focusing on making this the year of a Berkshire megadeal. His bar is high and the list of companies that can reach it (Costco? Nike? Engine maker Cummins?) has only gotten shorter. Still, he knows that putting a substantial portion of Berkshire's cash to use now while he's still around not only gives him at least one last hurrah, but it will also put less pressure on his successor -- likely Greg Abel -- to come out of the gate with a "huge" deal, or finally resort to paying a dividend. 
The best way Buffett can solidify his legacy is by returning to the M&A market with the same force and determination he's always shown. He may need to pay more than he wants to, but what's a little extra to Berkshire in the long run?
To contact the editor responsible for this story:
Beth Williams at bewilliams@bloomberg.net
Before it's here, it's on the Bloomberg Terminal.
LEARN MORE