Breakup Bandwagon
United Technologies: Who Needs Unity?
CEO Greg Hayes is starting to see the light on a three-way split.
By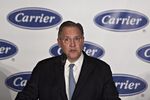 Took you long enough, Greg Hayes.
The United Technologies Corp. CEO on Wednesday said the board is studying whether it makes sense to break up the company into three parts, and he pledged to come back with answers by year-end. I've been arguing for a United Technologies breakup since way back in 2014, when Hayes first ascended to the top job; at long last, the company finally seems to be coming around to the idea.
It was rapidly running out of excuses. United Technologies' planned $30 billion acquisition of avionics maker Rockwell Collins Inc. will add a healthy stream of cash flow to the company's aerospace businesses. That mitigates Hayes' previous concern that a stand-alone combination of the jet-engine and airplane-parts divisions would struggle to fund expensive investment cycles. Meanwhile, the recently passed U.S. tax legislation gives United Technologies access to its bounty of overseas cash, which should help it pay down the Rockwell Collins debt faster and further improve the ultimate cash flow profile of its businesses.
There's really no good reason why the company's Pratt & Whitney geared turbofan (GTF) jet engines need to be sold alongside Carrier air conditioners and Otis elevators. You don't need much more proof than Hayes' own words on Wednesday: "I don't think Judy Marks, who runs our Otis business, worries too much about the GTF nor do I think Bob Leduc, who runs Pratt, worries too much about the Carrier air conditioners." He doesn't think those leaders are being held back by being part of the United Technologies conglomerate, but it also seems apparent that they aren't necessarily benefiting in a major way, either.
United Technologies' businesses have different capital requirements, growth profiles and debt capacities. RBC analyst Matt McConnell estimates the company is worth $151 a share, based on the sum of its parts, compared with a closing price on Wednesday of $129.26. He said he got feedback from investors who thought the breakup value should be higher.
Hayes did repeat past concerns about the dis-synergies of having to duplicate back-office duties such as taxes, payroll and accounts payable. 1 But he seems to be edging ever closer to accepting the idea of a breakup. It's the right thing to do if he really in fact is the internal activist he claims to be.
To contact the editor responsible for this story:
Beth Williams at bewilliams@bloomberg.net
Before it's here, it's on the Bloomberg Terminal.
LEARN MORE