Today's Testimony
The Long Road from Britain's Pay Rise to a Hawkish BOE
A pickup in wage growth gives a misleading picture of the health of the U.K. economy.
By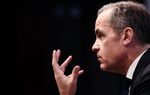 The Bank of England's recent hawkish shift on rates has perplexed many a sterling investor. Hopefully Bank of England Governor Mark Carney and the other Monetary Policy Committee members appearing in Parliament will explain the shift.
Wednesday's labor market report offers a varied picture of the U.K. economy, not least because of the unexpected pickup in the employment rate. But there's one economic sweetie Carney could well pull out of this mixed bag to justify the bank's newfound fear of resurgent inflation. Pay growth excluding bonuses -- the bank's preferred measure on compensation -- ratcheted up to 2.5 percent in December on a rolling three-month basis from a revised 2.3 percent in November.
This year the bank has developed a curious determination that global growth and sticky inflation require aggressive action on rates. Pointing to a pickup in pay could help justify that call. 
But observers of the goings-on at the Treasury Select Committee at 2:15 p.m. in London should cast a wary eye on any talk of wage worries. With Brexit negotiations unsettled, a flat housing market, weak retail sales, an inflation squeeze on consumer spending, and most other economic measures placid at best, a powerhouse economy is nowhere in sight. This leaves the bank open to the risk of policy error in insisting on a rate-hiking cycle.
To contact the editor responsible for this story:
Jennifer Ryan at jryan13@bloomberg.net
Before it's here, it's on the Bloomberg Terminal.
LEARN MORE