For Private Equity, HNA's Safe as Houses
PAG's deal with the debt-strapped conglomerate looks like a no-lose proposition.
By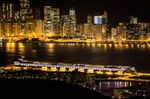 Private-equity firms have many ways of making money, but PAG Holdings Ltd. may have found a unique model in its loan to HNA Group Co.
The cash-strapped Chinese conglomerate has pledged most of its stake in a Hong Kong-listed unit in exchange for funds. The size of the advance wasn't disclosed, but the 1.39 billion shares in Hong Kong International Construction Investment Management Group Co. were valued at about HK$3.1 billion ($394 million) when the HNA-controlled company took out the loan on Feb. 14.
A pledge means that if the borrower fails to repay the debt, the lender can take over the collateral. In this case, that's an interest in a company that controls two choice parcels of land in Hong Kong, one of the world's most expensive real estate markets.
It's even better than that for Hong Kong-based PAG. The pledged shares are equal to 41 percent of HKICIM's stock. But PAG could end up owning 82 percent of the company depending on what happens to HKICIM's share price. 1
The Hong Kong-traded unit paid HK$5.53 billion and HK$7.44 billion, or the equivalent of about $1.7 billion combined, for two plots at the former Kai Tak airport in early 2017. Yet the company's market value is only about $926 million, based on its share price on Wednesday afternoon.
The company, acquired by HNA from Blackstone Group LP in 2016, also held minority stakes of less than 20 percent in two further sites at Kai Tak acquired by the Chinese conglomerate. HNA paid a combined HK$14.2 billion for the plots less than a year-and-a-half ago, and sold them to Hong Kong developer Henderson Land Development Co. this month for HK$16 billion.
Far from seeing a bump from that lucrative deal, HKICIM shares are down about 6 percent since the sale was announced. They may be undervalued. This no doubt reflects the concerns surrounding its parent, which is offloading the fruits of a $50 billion, two-year acquisition spree to pay back debt.
For PAG, it's a win-win situation. It didn't disclose how much interest it's making from the loan, but it's safe to say a private-equity firm would expect a higher return than a commercial bank. And if HNA can't repay the debt, PAG could end up with control of two valuable plots of land in a booming housing market that appears impervious to declines.
At a time when private-equity firms around the world are sitting on a mountain of dry powder looking for smart targets, this debt-hungry Chinese conglomerate looks to have provided one.
If the loan-to-value ratio falls below an unspecified threshold, HKICIM "may in certain circumstances deliver further ordinary shares" as security for obligations to the lender, the appropriately named PAG vehicle PA Glamorous Opportunity X Ltd., according to a Hong Kong stock exchange filing.

 
To contact the editor responsible for this story:
Matthew Brooker at mbrooker1@bloomberg.net
Before it's here, it's on the Bloomberg Terminal.
LEARN MORE