Psyched Out
Broadcom's Mind Games Aren't a Winning Strategy
And it probably knows that.
By and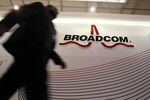 QUALCOMM INC
-0.66
At Closing, June 18th
BROADCOM INC
-5.73
At Closing, June 18th
Broadcom Ltd. is continuing to wage psychological warfare against Qualcomm Inc., but that may not win it a deal.
In response to Qualcomm raising its bid for NXP Semiconductors NV,  Broadcom on Wednesday lowered its own offer for Qualcomm by $3 a share to $79. Broadcom justified the reduced price by lambasting Qualcomm's increased proposal for NXP as a "transfer of value" away from Qualcomm shareholders. It conveniently ignores the fact that the stock market transferred more value into NXP shares amid better-than-expected results and rising stock prices for its peers.
This reads like a last-ditch effort to make Qualcomm management look bad and try to save face on a takeover proposal that has limited odds of succeeding. What's particularly telling is Broadcom's decision to leave the proposed reverse-termination fee at $8 billion. That likely wasn't enough for a deal between just Qualcomm and Broadcom. Mixing NXP into this amalgamation of companies -- which Broadcom is allegedly doing with the lower offer -- adds significant antitrust risks that shareholders aren't compensated for in this latest proposal.
Qualcomm investors are set to vote March 6 on Broadcom's proposed board slate. It's hard to see how they would be comfortable with this kind of regulatory risk. Odds are they don't hate the NXP deal as much as Broadcom does, either. Qualcomm shares climbed 6.3 percent when its talks with NXP were first reported and another 2.8 percent the day the deal was announced -- a rare feat for an acquirer.

Even at the raised price, Qualcomm says the merger should boost fiscal 2019 adjusted earnings per share by $1.50. Susquehanna International Group analyst Christopher Rolland estimates that may be more like $1.30-plus on more than $700 million of synergies. Either way, that's pretty good.
The NXP deal will diversify Qualcomm away from the slowing smartphone market and the licensing business that's given it so many legal headaches. As far as a backup plan to a Broadcom sale goes, the company could have done a lot worse. Obviously, Qualcomm investors would have preferred not having to raise the price for NXP, but they are smart enough to realize that the valuation case had moved against them and that feisty NXP shareholders like Elliott Management Corp. weren't going away.  Those investors actually wanted more than what Qualcomm ended up giving them. At the very least, it seems unlikely Qualcomm holders are going to be cool with Broadcom assigning essentially negative value to a $46 billion acquisition.
That brings us to the delicate point in the deal machinations when it's time to consider Broadcom's future if it doesn't buy Qualcomm. Broadcom was doing well before all this drama, thanks in part to CEO Hock Tan's iconoclastic view of how to run a computer chip business. He hasn't skimped on research and development costs, but has chosen to focus on a few areas of expertise, rather than splurge to diversify into new areas. It's a more financially minded point of view than is typical in the chip industry, which has tended to be led by engineers. 
But the other essential part of Tan's playbook -- using acquisitions to grow the business and generate cost-cutting opportunities -- may be harder to achieve should this Qualcomm pursuit fail. After a multiyear spree of dealmaking both by Tan and the wider chip industry, he risks running out of appealing targets that are large enough to move the needle. It's the same problem that's bedeviled fellow famed cost-cutter 3G Capital, the Brazilian investment firm that backs Kraft Heinz Co. and Burger King. 
Should Broadcom lose its battle for Qualcomm, it wouldn't be terribly surprising to see it try again at a later date. Tan has done a good job of zeroing in on investors' frustrations with Qualcomm's current management team and its legally challenged licensing business. If we fast forward a few years and Qualcomm is still going around in circles with its licensing business, or fails in some other way to meet its ambitious earnings targets, Broadcom will have even more leverage with shareholders. But in the current round of fighting, its latest move doesn't offer them much of an enticement.
To contact the editor responsible for this story:
Beth Williams at bewilliams@bloomberg.net
Before it's here, it's on the Bloomberg Terminal.
LEARN MORE