All Aboard
The Hedge Fund Roller-Coaster
Chasing the promise of extra returns has cost two pension plans.
By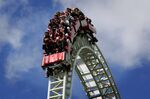 Are hedge funds suitable investment vehicles to help oversee and nurture the hard-earned nest eggs of police officers and fire fighters? Maybe not -- especially when performance depends upon the alleged trading brilliance of a single individual.
Last year, Alan Howard launched a new fund. The Brevan Howard AH Fund LP would be solely managed by the billionaire, hence his initials appearing in the title. The move came as the firm he oversees has seen its assets drop to $9 billion from a peak of $40 billion.
The new fund appears to have got off to a rocky start, to say the least. It was down by almost 9 percent between May and the end of last year, according to Reuters, which cited a spokesman for two investors in the fund. Other global macro funds did better.
Two retirement plans -- the New York City Fire Department Pension Fund and the New York City Police Pension Fund -- withdrew money from Brevan Howard's flagship Master fund to invest in the new fund in May. They had a combined stake worth $129 million at the end of the year, Reuters reported.
The pension pots would still have lost money if they'd stayed put with the flagship fund, albeit to a lesser degree. The Master Fund was down 5.4 percent last year, its worst annual performance since it opened for business in 2003.
The Master Fund was up by 2.4 percent in January, while macro funds had an average gain last month of 1.88 percent, according to figures compiled by EurekaHedge. So the AH fund may well have clawed back some of its losses.
And to be fair, the Master Fund outperformed its peers for several years. An investor who entrusted $100 with the Brevan Howard flagship in March 2003 would have seen that grow to $295 by November, compared with $279 for other macro funds as measured by the EurekaHedge index, according to figures compiled by my Bloomberg News colleague Nishant Kumar. So it's clearly too soon to say that Howard's new fund won't deliver long-term benefits to its investors.
But by chasing the promise of higher returns by funding the additional risks Howard's fund said it would take, two pension funds lost more than $11 million of their customers' money in seven months. I wonder what the trustees -- not to mention the fire fighters and police officers whose retirements they are charged with safeguarding -- have to say about that.
To contact the editor responsible for this story:
Edward Evans at eevans3@bloomberg.net
Before it's here, it's on the Bloomberg Terminal.
LEARN MORE