Latest Shocker
Noble's Carcass Is Stripped of All Its Meat
The company's empty kitty may, perversely, help it fight off legal challenges from disgruntled holders of perpetual hybrid securities.
By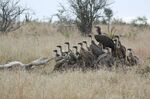 For any vultures hoping to pick meat off the carcass of Noble Group Ltd., some bad news: There may be nothing left.
Net losses in the quarter to December will be between $1.73 billion and $1.93 billion when results are announced Feb. 28, the stricken commodities trader said on Monday. Even by Noble's standards, that's a shocker.
More important, it could easily be enough to overwhelm the $1.05 billion in net assets remaining within the company. In balance sheet terms, that would mean Noble may already be insolvent. 1
Such an announcement would typically be bad news for management and shareholders. But, in this instance, Noble's empty kitty may prove rather useful.
After all, the company is trying to carry out a complex debt restructuring that will leave holders of its $400 million in perpetual hybrid securities with just 3.75 cents on the dollar. Senior creditors do better, as you'd expect. But the more unusual aspect is that 10 percent of equity in the new operating company is going to shareholders. Up to 20 percent is for management.
Shareholders ought to stand junior to holders of hybrids in a capital structure, and executives should only be entitled to have salaries and pensions paid out like other staff. Rewarding those who crashed the company looks perverse and may be hard to defend in court.
The justification is that Noble's founder Richard Elman and other managers have 19 percent or more of Noble's shares, and could walk if they feel they're being short-changed. Senior creditors would surely rather have 70 percent of a functioning commodities business than 100 percent of one where all the trading talent had quit -- right?
Well, up to a point. The question is whether there's a functioning commodities business there at all. While most of the fourth-quarter loss is water-under-the-bridge writedowns, the core company is still hemorrhaging cash. Operating income from its supply chains was about $25 million in the fourth quarter, Noble said Monday, That's roughly what the company expects to spend on trading and head office costs each quarter, with about the same going on interest payments. If Noble can't at least double its operating income, its doom will have been merely postponed.
The dreadful fourth-quarter could come in useful in other ways. The company's best hope of seeing off any legal challenge from its perp-holders is to argue that there'd be no economic value left in the business anyway. 
Given there's $3.4 billion of senior debt outstanding, perp-holders will probably need to demonstrate there's at least that amount left if they want a seat at the table. The evidence against that is mounting.
Noble's senior notes still trade at less than 50 cents on the dollar, indicating that investors don't hold much hope for even the uppermost tranches of debt. That weak fourth-quarter result suggests Noble is set to continue its run of negative free cash flows, too, implying the business wouldn't be worth much using a discounted cash flow valuation. A third-party takeover seems highly improbable, given that Noble has been touting that to the likes of Sinochem Group for a year now.
The net loss could prove most decisive, though. Noble's perps are considered part of the equity on its balance sheet, and it's near impossible to imagine a scenario where Monday's writedowns wouldn't leave them deep underwater.
Of the $1.05 billion in net assets left at the end of September, $565 million was part of the Noble Americas Corp. oil liquids business that was sold off last month. Subtract the $1.45 billion to $1.55 billion that's being written off Noble's derivatives book, and the balance sheet seems certain to be holed below the waterline.
When operating cash flows were lacking in recent years, mark-to-model valuations on that derivatives book conjured paper profit out of thin air -- useful for senior staff with bonuses linked to earnings. Now those executives are fighting junior creditors for a slice of the corpse, a more conservative approach is producing one-time losses that will weaken the perp-holders' bargaining hand.
Noble's derivatives book has served management well over the years. It would be rich indeed if it did them this one last favor in extremis.
Plenty of businesses trade without difficulty while insolvent in this sense -- it's only cash-flow insolvency, where a company defaults on its debts, that precipitates a crisis. However, in a wind-up scenario where accountants switch from viewing a company as a going concern to a stock of assets to be liquidated, negative net assets become a much more important consideration.
To contact the editor responsible for this story:
James Boxell at jboxell@bloomberg.net
Before it's here, it's on the Bloomberg Terminal.
LEARN MORE