Insurance Policy
Lloyds Tiff With Standard Life May Be a Lover's Ploy
A merger of their two insurance businesses could still happen.
By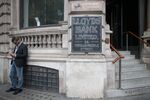 LLOYDS BANKING GROUP PLC
+0.70
At Closing, March 16th
STANDARD LIFE ABERDEEN PLC
+2.50
At Closing, March 16th
Lloyds Banking Group Plc and Standard Life Aberdeen Plc have fallen out after talks to merge their insurance businesses fell apart. But the two have left the door open to overcoming their differences and getting the deal back on track.
News of the failed talks fills in some of the background to Lloyds's announcement last week that it plans to pull 109 billion pounds ($153 billion) of insurance assets managed by SLA. That contract predated Standard Life's merger with Aberdeen last year. The merger of the two fund managers created a "material" competitor, which Lloyds said allowed it to annul the arrangement.
In a statement, Lloyds said it would seek a different partner to manage the cash pile. But it also praised Aberdeen's stewardship of the assets, and said it would "welcome their participation in the review if Standard Life Aberdeen is able to resolve the competition issue."
In other words, if the insurance dalliance can be put back on track, then that 109 billion pounds might not walk out of the door.
The discussions faltered because Lloyds wanted majority control -- and presumably a bigger share of the profits -- while SLA was pushing for an equally-owned joint venture.
Insurance contributed 822 million pounds of first-half 2017 revenue at Lloyds and 408 million pounds of pretax income, representing a bit less than 10 percent of both measures.
The breakdown of the talks means Lloyds executives will be busy rewriting the slides for the strategy day the company is scheduled to host on Wednesday. A merger of its insurance unit with SLA, which the pair began to discuss in mid-2017, would have been the center-piece. SLA, meantime, reports its first post-merger results on Friday.
Lloyds's announcement last week that it was planning to withdraw its insurance assets wiped 7.5 percent off SLA's share price that day, though it's recouped some of those losses in the two most recent trading sessions.
Investors, it seems, aren't keen on seeing almost a fifth of SLA's total assets under management disappear, even though the low margins on the mandate means the knock-on hit to SLA's profit will only be about 5 percent. Lloyds, though, may struggle to find another manager willing to take on such a low-fee asset pool.
"There's still a possibility that we will manage the money," SLA co-CEO Martin Gilbert told Bloomberg Television last week. If the pair can build an insurance merger on terms acceptable to both, that possibility may become a reality.
To contact the editor responsible for this story:
Edward Evans at eevans3@bloomberg.net
Before it's here, it's on the Bloomberg Terminal.
LEARN MORE