Re-Branded
Logos Are Back, and Retailers Must Respond
What was once fashion kryptonite is cool again; brands need to adjust quickly.
By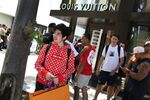 ABERCROMBIE & FITCH CO-CL A
+0.45
At Closing, June 18th
Several years ago, some big names in apparel and accessories missed the memo about a backlash against logo-emblazoned fashion -- and paid dearly for it.
Shoppers snubbed the signature graphic tees and hoodies of teen palaces Abercrombie & Fitch Co. and American Eagle Outfitters Inc. in favor of fast-fashion pieces. Sales of Tapestry Inc.-owned Coach dropped when its logoed handbags stopped being coveted status symbols. Even enduring tastemaker Gucci, owned by Kering SA, had a tough time navigating the change. 
These struggles became a cautionary tale the clothing industry took to heart. They informed all manner of strategic decisions, from which aesthetics to embrace to which designers would be fired to how much money to pour into overhauling supply chains. 
And now, surprise! Logos are back in style. And their arrival marks a key test for the apparel industry, a high-profile opportunity to show investors and shoppers they've learned the lessons of the recent past.
Hip streetwear brand Supreme has helped make the logoed look feel exclusive and fresh again. High-fashion houses including Oscar de la Renta and Balenciaga are putting logo-stamped pieces on shelves, signaling their credibility to the influencer crowd.
And the consumer masses are getting on board. Levi Strauss & Co. has seen blockbuster sales of its "batwing" T-shirts, which feature the Levi's logo. The company's CEO, Chip Bergh, told me last week that when he recently visited one of the brand's outposts in Germany, a store manager said he would put a pile of 40 or so of the tees out in the morning and sell them by lunchtime.
So, retailers, now is your moment. You wax poetic to investors constantly about how much you've sped up your design lead times. You assure them the profits you've sacrificed to overhaul your supply chain are worth it because it will mean you can act quickly when a trend is hot.
Scoring a hit with the logoed look -- which was basically retail kryptonite only three years ago -- would send a powerful message that you truly have learned how to adapt to the fashion industry's new cruising speed.
Some chains seem to get it. Gap Inc. is prominently displaying online and in stores a '90s-inspired "logo remix" collection embracing the trend. (And it sure won't hurt that Gap was able to enlist ultra-cool music stars Sza and Metro Boomin to help sell it.)
Ralph Lauren Corp. CEO Patrice Louvet said on an earnings call earlier this month that among the clothier's bestsellers for the holiday season were its Polo Bear sweaters and pieces with its crest logo.
Coach, too, is pushing its logo again with new products that inspired a "terrific" response from upscale wholesale partners, brand president and CEO Joshua Schulman told investors last week. In case that gave investors painful flashbacks, Schulman was quick to add, "We want to be very clear, though, that we're going to take a very measured approach and a very disciplined approach in how we reintroduce this into retail."
Now the pressure is on for troubled chains such as Abercrombie & Fitch, Guess? Inc., and L Brands Inc.'s Victoria's Secret to show that they, too, have a solid game plan for this moment.
The comeback of logos is just one hint of a sea change in fashion. Waistlines are higher. Hemlines are lower. Denim is resurgent as an alternative to leggings. Ballet flats have been tossed in favor of mules.
The industry has as a chance to get people excited about apparel again after a long drought.  Those who don't get it right are likely in for yet another dry spell.
(
Updated to correct the corporate parent of Gucci.
)
To contact the editor responsible for this story:
Mark Gongloff at mgongloff1@bloomberg.net
Before it's here, it's on the Bloomberg Terminal.
LEARN MORE