Early Adopter
Ares May Be Getting Too Much Credit for Making the First Move
Abandoning a partnership structure may be a boon, but Ares's outsize gains could prove premature.
By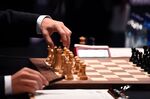 ARES MANAGEMENT LP
+0.25
At Closing, February 23th
Ares Management LP has just taken on the status of early adopter. 
The Los Angeles-based firm on Thursday became the first alternative asset manager to decide to abandon its partnership structure and convert into a corporation, a move made palatable by President Donald Trump's recent tax cuts. The announcement sent the stock more than 11 percent higher to a fresh record and consolidated Ares's existing gains of more than 19 percent since the tax law was passed on Dec. 20: 1
The early positive reaction may be premature, and it'll be curious to see if incorporating will have the intended effect of luring in investors that were either restricted from investing in partnerships or just avoided them due to the added complexity associated with tax returns. On a call with analysts, the firm acknowledged that its substantial insider ownership will likely keep it excluded from key indexes like the S&P 500, so shareholders may indeed be getting ahead of themselves. 
But if things go to plan, Ares arguably will be in a better position than rivals to grow via acquisitions. Armed with a potentially more liquid, valuable currency, it'll be more compelling to use its stock to at least partially fund the purchase of other asset managers, which is one way of swiftly growing assets under management. 2  Already, it has shown growth ambitions by attempting a $2.55 billion deal for energy-focused Kayne Anderson Capital Advisors LP in 2015 that was ultimately aborted in part due to a slide in oil prices. That firm has $26 billion under management and aging founders; with stabilized energy markets, a deal could be revived.
As I've highlighted, firms like Ares and Apollo Global Management LLC have less to lose as corporations than other alternative asset managers. Ares, especially, says that it'll pay a lower overall effective tax rate as a corporation, which isn't the case for any of its peers. That's mainly because management fees are a large contributor to their earnings -- they accounted for 80 percent of fee income in 2017 alone -- and this type of revenue is already taxed at the corporate rate anyway. 3   
Will any peers follow suit? That depends in part on the level to which Ares's valuation improves from here as a result of having a flood of new, eligible investors. After gaining so much already, there's a question as to whether this is sustainable or how much further Ares shares can stretch after March 1, the effective date of the conversion.  
Among those that should be watching most closely is KKR & Co., which already has a fixed dividend as opposed to the industry's favored variable model. The firm has already estimated that its valuation relative to trailing earnings must improve by roughly two multiple turns (or roughly $4.50 a share, based on its $21 price last Thursday when its CFO crunched the numbers) to break even and offset the dent to earnings caused by having to pay a higher effective tax rate as a corporation. If Ares can sustain gains that are meaningfully higher, KKR may be convinced to follow suit. 
Because each firm is so different, folks shouldn't expect the first one to start a chain reaction. For the likes of Carlyle Group LP and Blackstone Group LP, the cost of paying Uncle Sam more than necessary will likely continue to outweigh the benefits.
The outsize gains deserve some scrutiny, as it suggest insiders may have confirmed their intentions to equity analysts, who in turn spread the idea among clients. 

To be sure, not having a super liquid stock hasn't been a hurdle for others. Blackstone Group LP, which snapped up MLP manager Harvest Fund Advisors last summer, adding about $10 billion under management. 
To contact the editor responsible for this story:
Beth Williams at bewilliams@bloomberg.net
Before it's here, it's on the Bloomberg Terminal.
LEARN MORE