Hedge Trimmer
You Call That an Oil Sell-Off?
Though prices fell, hedge funds stayed remarkably bullish, positioning data show.
By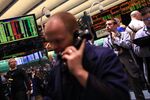 Oil is bouncing on Monday after last week's sell-off. In one important respect, though, there was barely any sell-off worth mentioning.
Oil did drop about 10 percent across a six-day losing streak beginning February 2, mirroring the selling in financial markets generally. Brent crude retreated from $70 a barrel, while West Texas Intermediate fell below $60.
Yet you would hardly know it when looking at how hedge funds ended the week in terms of their market positions. Money managers' net length in futures and options for the three main crude-oil contracts fell by all of 2.3 percent, and it remains above 1 billion notional barrels. Aggregate net length in New York gasoline and diesel dropped by 7.2 percent -- the biggest decline in nine weeks -- but those positions are a fraction of the crude market.
The speculative run that began in the middle of last year may have taken a breather, but that's hardly what you would call a retracement. Remarkably, while net length has come down somewhat, the ratio of money managers' long positions to short positions in crude oil actually increased slightly last week:
The takeaway? Painful as last week was, the speculative money in oil remains firmly positioned for further gains (and roll yields; see this). That is simultaneously a backstop against panics like last week's and a store of fuel to supercharge future ones if hedge funds lose faith.
To contact the editor responsible for this story:
Mark Gongloff at mgongloff1@bloomberg.net
Before it's here, it's on the Bloomberg Terminal.
LEARN MORE