Good Thinking, 99
China Plays Yuan to Demand a `Powell Put'
A slight fever in markets now will guard against more expensive capital later.
By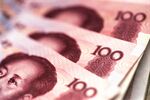 Stop wondering why China is muddying already squishy global markets by driving the yuan lower, and right before next week's Lunar New Year holiday.
Although U.S. President Donald Trump's use of a rarely employed trade-protection measure against washing machines and solar panels is indeed a provocation, Washington think-tank folks can take a break: the People's Republic has no intention of starting a global currency war.
Friday's weakest yuan fixing in more than a year may have a much simpler -- and more tactical -- motivation. Think of it as Beijing's insistence on a "Powell Put."
On Friday, the PBOC weakened the daily reference rate by 0.59 percent to 6.3194 yuan per dollar. Include Thursday's sharp drop in the Chinese currency, and it's already 0.88 percent weaker against the greenback since Wednesday's close.
Recall Beijing's 2 percent devaluation on Aug. 11, 2015. Within hours of that move, odds that the U.S. Federal Reserve would raise interest rates in September 2015 dropped like a stone. Traders started to weigh the second-order impact on the U.S. economy of, say, the yuan weakening by 10 percent over the next 12 months. "Would Fed Chair Janet Yellen dare to raise rates and crash the stock markets?" they asked themselves.
And sure enough, the first U.S. interest rate increase since the 2008 financial crisis got delayed by three months. You could argue that even afterwards, the shadow of the abrupt devaluation -- accentuated by capital outflows amid a massive Chinese debt buildup -- damped the pace of Fed rate hikes. Instead of the four increases expected in 2016, markets only got ... one. The notion strengthened that Yellen, like her predecessors Ben Bernanke and Alan Greenspan, could be counted on to offer the markets a put option to limit their losses.
Something that worked so well in the past deserves a second airing. So Beijing is putting new Federal Reserve Chairman Jerome Powell to the same test.
A weaker yuan in the current climate of falling stocks and surging volatility will no doubt be unforgiving for Chinese stocks: the Hang Seng China Enterprises Index has been among the world's worst-performing benchmarks in the current global sell-off.
But from Beijing's perspective, a slight fever now may be a small price to pay for inoculating its overstretched, overambitious corporate borrowers -- especially developers -- against significantly more expensive capital. The tactical goal, as I see it, is to undermine the Federal Open Market Committee's confidence in its ability to raise rates two or three times this year. If the FOMC is forced to settle for one or none, fears of a meltdown will go away.
Back in August 2015, the Chinese signaled their unwillingness to follow the dollar on its relentlessly upward trajectory; doing so would have deepened the deflation in the country's producer prices, and guaranteed a credit crisis. But now, Chinese producer prices are rising; economic growth is steady; and debt-to-GDP ratios are stabilizing. For Beijing to actively seek a weaker yuan against a weak dollar just because its trade surplus more than halved last month isn't a very cogent argument. (January and February are anyway unreliable months for data because of the Chinese New Year.)
A more plausible story may be the threat the People's Republic perceives from Trump's expansionary fiscal policies, which could compel the Fed to raise rates faster than the market currently anticipates.
It's a risk Beijing might want to nip in the bud. By fighting for a "Powell Put."
To contact the editor responsible for this story:
Katrina Nicholas at knicholas2@bloomberg.net
Before it's here, it's on the Bloomberg Terminal.
LEARN MORE