Little big plan
Alibaba's Ant Strategy Looks a Little Clearer
Another $5 billion and no dilution is appealing.
By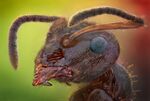 ALIBABA GROUP HOLDING-SP ADR
-2.86
At Closing, June 15th
Well, that didn't take long.
A week after Alibaba Group Holding Ltd. said it's taking a one-third equity stake in Ant Financial -- in return for giving up a profit-sharing deal -- its affiliate and Alipay operator looks set to boost its market value by as much as $40 billion.
Ant is planning to raise up to $5 billion, which could take it to a valuation between $80 billion and $100 billion, Reuters reported Friday. The startup was said to be worth $60 billion after a 2016 funding round, Bloomberg said at that time.
Alibaba's shares are down 15 percent since it told investors about the Ant equity deal. A global stock rout and investor concerns over the e-commerce company's margins have overshadowed the potentially lucrative upside of the transaction. 
Meanwhile, fellow Gadfly Shuli Ren warned investors not to get too excited about the prospect of an IPO for Ant, whose full name is Zhejiang Ant Small & Micro Financial Services Group. She trawled through Alibaba's and Ant's numbers to note that all may not be well at the financial-services operator, with the equity deal being a somewhat charitable move on Alibaba's part.
Ant investors don't seem deterred, and that's fantastic for Alibaba. In addition to gaining the stake, Alibaba Vice Chairman Joe Tsai told them: 
Alibaba is going to be protected from the dilutive effects of future Ant fundraisings until an IPO of Ant Financial.
As it now owns 33 percent of a company facing myriad challenges, it's a smart move for Alibaba to bid up Ant's price through private funding without having to cop any dilution. Now all it has to do is hang on until an IPO.
To contact the editor responsible for this story:
Paul Sillitoe at psillitoe@bloomberg.net
Before it's here, it's on the Bloomberg Terminal.
LEARN MORE